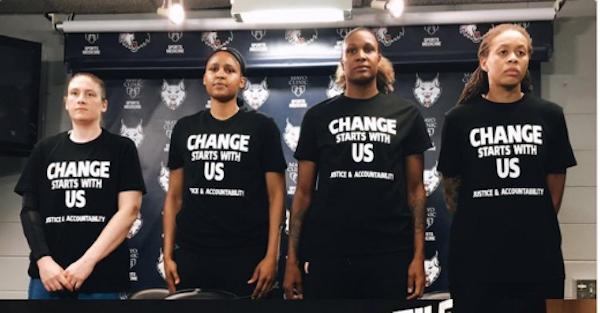 After players on the Minnesota Lynx WNBA team wore warm-up shirts protesting the deaths of Alton Sterling and Philando Castile, four off-duty Minnesota police officers staged a little protest of their own by leaving their security posts at Minnesota's Target Center during Saturday's game against the Dallas Wild.
"I commend them for it," Lt. Bob Kroll, the Minneapolis police union's president, told the Minneapolis Star Tribune regarding the officers' decision to leave.
"If [the players] are going to keep their stance, all officers may refuse to work there," he later said.
On the front of the shirts was the phrase "Change Starts With Us — Justice and Accountability," while the back included the names of Castile and Sterling, as well the Dallas Police Department shield and "Black Lives Matter."
RELATED: Black lives matter. Blue lives matter. This year sucks
"We do not in any way condone violence against the men and women who serve in our police force," Lynx star Maya Moore said in a pregame press conference. "Senseless violence and retaliation do not bring us peace."
"We as a nation can decide to stand up for what is right, no matter your race, background or social status. It is time we take a deep look at our ability to be compassionate and empathetic to those suffering from the problems that are deep within our society."