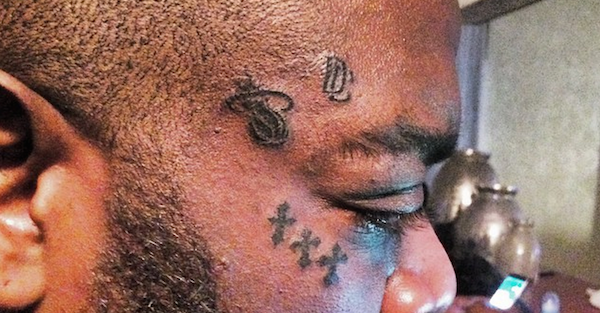 Notorious rapper Rick Ross isn't just known for his lyrical abilities, but his stature as the No. 1 Miami Heat fan.
He's so hardcore, Ross got the Heat logo tattooed next to his eye.
http://instagram.com/p/xc86HRula3/?modal=true
So this got us thinking, what would some of the biggest fans in the NBA look like with tattoos of their favorite teams on their respective faces?
Let's take a look.
Spike Lee – New York Knicks
Jack Nicholson – LA Lakers
Tiger Woods – Orlando Magic (standing next to Mark Cuban of the Dallas Mavericks)
Justin Timberlake – Memphis Grizzlies
Wale – Washington Wizards
Jay Z – Brooklyn Nets
Jim Parsons from Big Bang Theory – Houston Rockets
Will Smith – Philadelphia 76ers
2 Chainz – Atlanta Hawks
Daniel Stern and Dan Aykroyd from Celtic Pride – Boston Celtics
Drake – most of the NBA