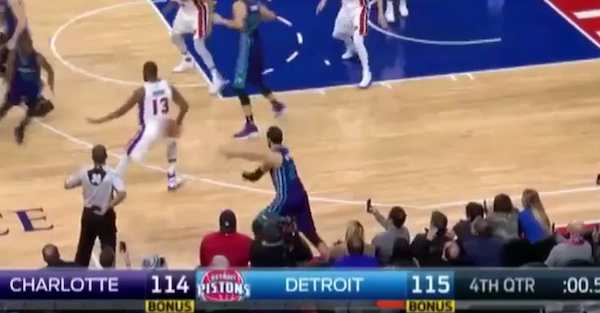 Twitter Screen Shot
The Charlotte Hornets were trailing the Detroit Pistons 115-114 with 0.5 seconds left, and Hornets coach Steve Clifford had guard Marco Belinelli inbound the ball.
Related: NBA player forgets himself and drops his pants in front of 20,000 people 
Belinelli searched for someone to pass the ball to, but eventually he just inbounded the ball off of Pistons forward Marcus Morris' back, caught the ball off the bounce and launched what would have been a game-winning 3-pointer.
Unfortunately, the shot was too late, and the Pistons won the game by a point. Still, what an incredible effort from Belinelli.
(h/t For The Win)