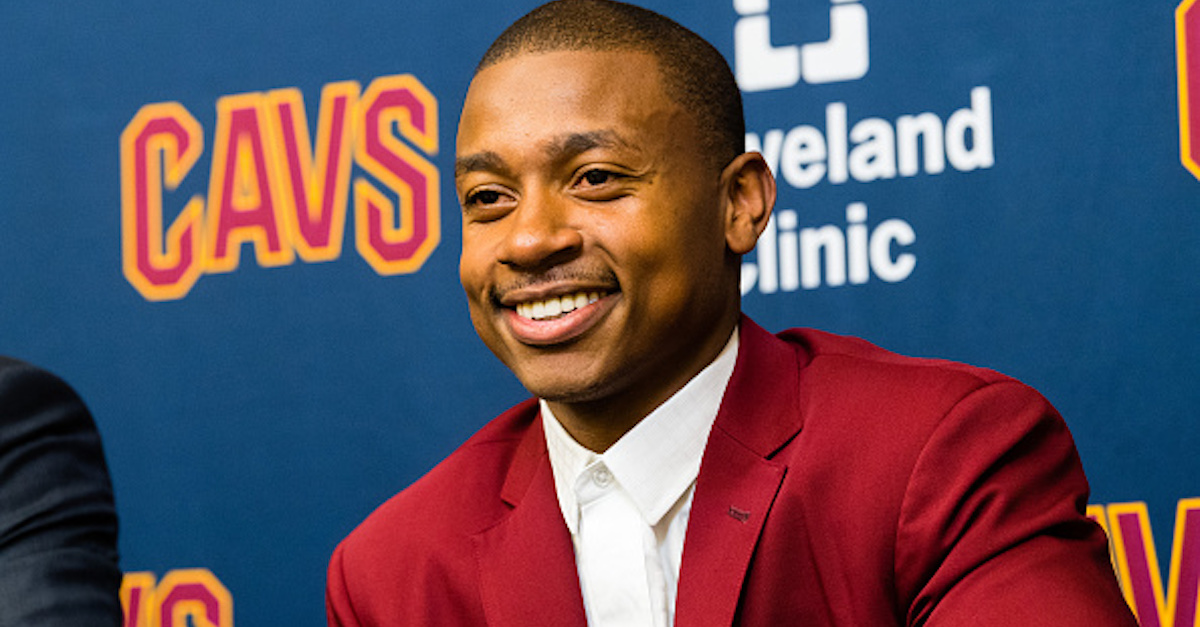 Jason Miller/Getty Images
INDEPENDENCE, OH - SEPTEMBER 7: Isaiah Thomas is introduced as a Cleveland Cavalier at Cleveland Clinic Courts on September 7, 2017 in Independence, Ohio. NOTE TO USER: User expressly acknowledges and agrees that, by downloading and or using this photograph, User is consenting to the terms and conditions of the Getty Images License Agreement. (Photo by Jason Miller/Getty Images)
Isaiah Thomas was named after the great point guard Isiah Thomas of the Detroit Pistons, and much like the latter Thomas, the Cleveland Cavaliers' guard believes he'll win a championship.
In fact, he feels he'll win it with the Cavaliers.
Thomas was, of course, part of a blockbuster trade earlier this year that saw him traded from the Boston Celtics to the Cavaliers, to join up with LeBron James, in return for the Celts getting Kyrie Irving from the Cavs.
It was a huge deal, but it apparently caught Thomas by surprise. In fact, he told Sports Illustrated that he would never talk to Celtics' general manager Danny Ainge again (H/T Bleacher Report).
"Boston is going to be all love," he said. "I might not ever talk to Danny again. That might not happen. I'll talk to everybody else. But what he did, knowing everything I went through, you don't do that, bro. That's not right. I'm not saying eff you. But every team in this situation comes out a year or two later and says, 'We made a mistake.' That's what they'll say, too."
Recently speaking on the Road Trippin? podcast, Thomas clarified his thoughts on Ainge and the Celtics. He said that people took people took the comment the wrong way, and that he understands that basketball is a business, and that in business trades are made.
In fact, even in the short time since the Sports Illustrated interview, Thomas may have already softened his thoughts on the matter. That, or the fact, that he's going to be playing with LeBron James has finally sunk in.
Here's what he said, as passed on by WEEI.com:
?I?m not tripping off the trade, like I got traded to the Cavs and we?re going to win a championship. And at the end of the day, I?m going to be fine with that,? the 28-year-old Thomas continued. ?[Ainge] sent me to an even better situation with a bigger platform. I?m blessed to be in the position, I?m grateful and I?m excited.?
Thomas may be in a position to win a championship with Cleveland, but he's going to have to wait a while to get back into action. He's expected to return from a hip injury in January. The Cavaliers did trade for him with knowledge of this injury.