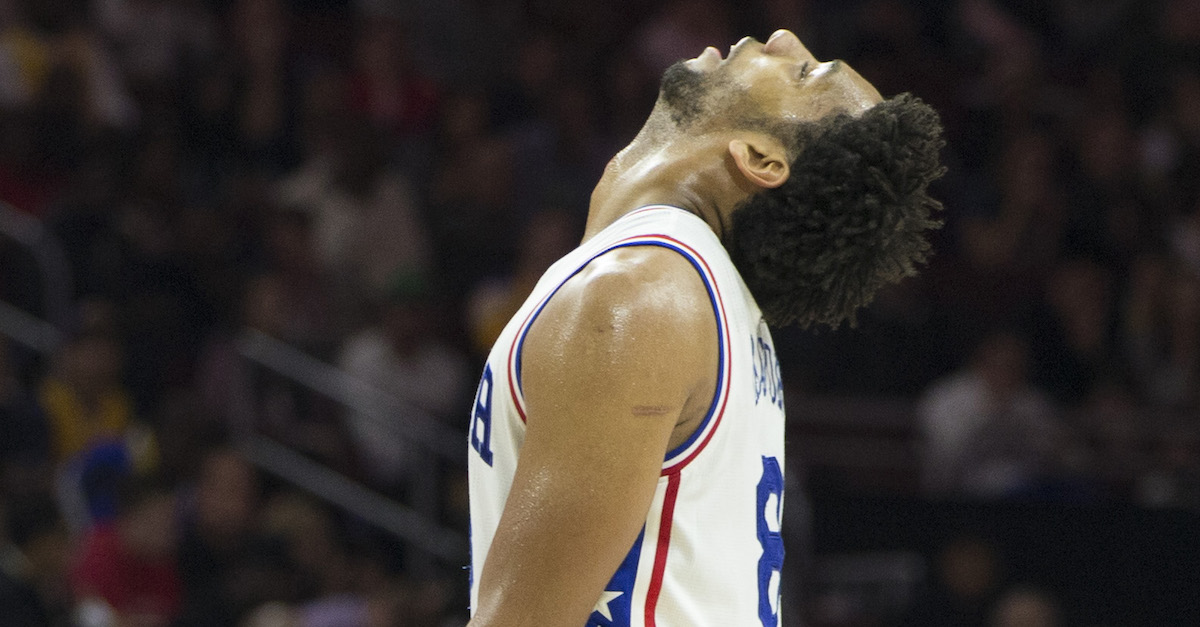 Mitchell Leff/Getty Images)
PHILADELPHIA, PA - DECEMBER 1: Jahlil Okafor #8 of the Philadelphia 76ers reacts in the game against the Los Angeles Lakers on December 1, 2015 at the Wells Fargo Center in Philadelphia, Pennsylvania. NOTE TO USER: User expressly acknowledges and agrees that, by downloading and or using this photograph, User is consenting to the terms and conditions of the Getty Images License Agreement. (Photo by Mitchell Leff/Getty Images)
The Philadelphia 76ers have finally parted ways with disgruntled forward Jahlil Okahor.
Philadelphia sent Okafor, along with Nik Stauskas and a second-round pick to the Brooklyn Nets in exchange for Trevor Booker, according to multiple reports.
Okafor, a former No. 3 overall draft pick, has only appeared in two games this season after losing his spot in the Sixers' rotation.
The former Duke standout has averaged 14.6 points, 5.9 rebounds and 1.2 assists per game during his three NBA seasons.
Last month, Okafor told ESPN that he's been wasted on the bench this season as the Sixers refused to agree to a buyout or trade him prior to Thursday.
"This is my third year in the NBA, and I know it's a business," Okafor said. "I don't know if it's fair or not, but in talking to other people in the NBA, talking to retired players, one thing I've heard them say is that what's going on with me isn't right and they've never seen anything like this before.

"I know it's business, but in my eyes, I don't know if it's good business."
Booker, who signed with the Nets last offseason, is averaging a career-best 10.1 points, as well as 6.6 rebounds through 18 games in the 2017-18 season.
Stauskas has appeared in six games off of the Sixers' bench and has averaged 7.3 points, 2.1 rebounds and 1.7 assists per game during his four-year NBA career.