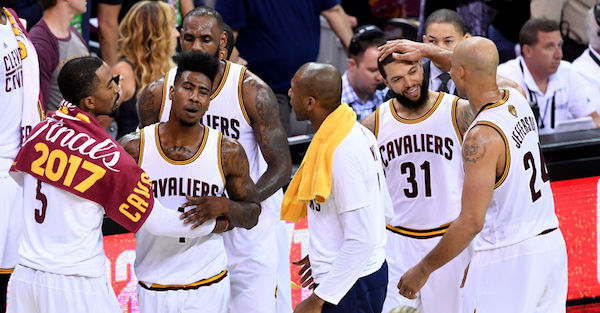 Jason Miller/Getty Images
CLEVELAND, OH - JUNE 09: JR Smith #5, Iman Shumpert #4, LeBron James #23, James Jones #1, Deron Williams #31 and Richard Jefferson #24 of the Cleveland Cavaliers react in the third quarter after a play against the Golden State Warriors in Game 4 of the 2017 NBA Finals at Quicken Loans Arena on June 9, 2017 in Cleveland, Ohio. NOTE TO USER: User expressly acknowledges and agrees that, by downloading and or using this photograph, User is consenting to the terms and conditions of the Getty Images License Agreement. (Photo by Jason Miller/Getty Images)
The dynamic duo that is LeBron James and James Jones may finally be coming to a close, as a new report suggests that the 36-year-old may not be returning to the Cleveland Cavaliers next season.
Jones, who has remained close and followed James wherever he's gone in his career, may really not be on the Cavs roster at the start of next season.
Via Cleveland.com:
"Jones, 36, is a free agent after 14 pro seasons. A source close to the Cavs said Jones would not be back in 2016-17. Jones' agent, Joel Bell, said neither the team nor Jones had made a decision about his return."
Without a general manager in place, the Cavs electing to not bring back Jones, a close friend of James, would be another risky move by a franchise that is finding themselves in increasing danger of losing their superstar.
Cleveland.com's Joe Vardon also points out in the story: "LeBron is aware Jones may not return to the Cavs and is not upset by it, a source said."
James may not be upset about the possibility, but with free agency looming next summer, the Cavs should be doing everything possible to ensure James is happy with the direction of the franchise.