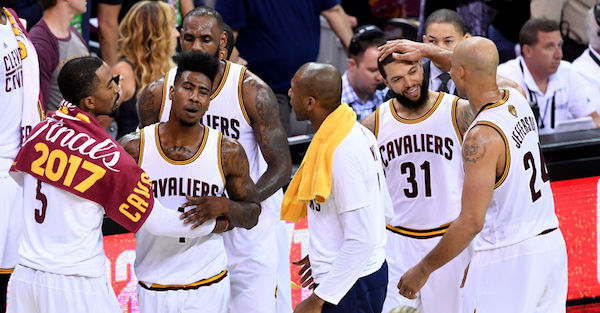 Jason Miller/Getty Images
CLEVELAND, OH - JUNE 09: JR Smith #5, Iman Shumpert #4, LeBron James #23, James Jones #1, Deron Williams #31 and Richard Jefferson #24 of the Cleveland Cavaliers react in the third quarter after a play against the Golden State Warriors in Game 4 of the 2017 NBA Finals at Quicken Loans Arena on June 9, 2017 in Cleveland, Ohio. NOTE TO USER: User expressly acknowledges and agrees that, by downloading and or using this photograph, User is consenting to the terms and conditions of the Getty Images License Agreement. (Photo by Jason Miller/Getty Images)
The Phoenix Suns made some major decisions regarding the future of their front office Wednesday afternoon, as the team announced that general manager Ryan McDonough got a multiyear contract extension and NBA veteran James Jones was joining the team as Vice President of Basketball Operations.
The move was announced via a press release from the team that can be found below:
In the statement, McDonough praises the arrival of Jones saying, "He is a three-time NBA champion and has been one of the top executives with the National Basketball Players Association over the past few years."
The move is a good one for the Suns, as McDonough has done a great job adding young talent in Devin Booker, Marquese Chriss, Dragan Bender, Josh Jackson, TJ Warren and more. His future, prior to this announcement, had been uncertain in Phoenix.
The addition of Jones to the front office should be a huge help in the team's free agency efforts, with Jones' relationships across the league, perhaps most notably with LeBron James.
Jones played in the NBA for 14 seasons.