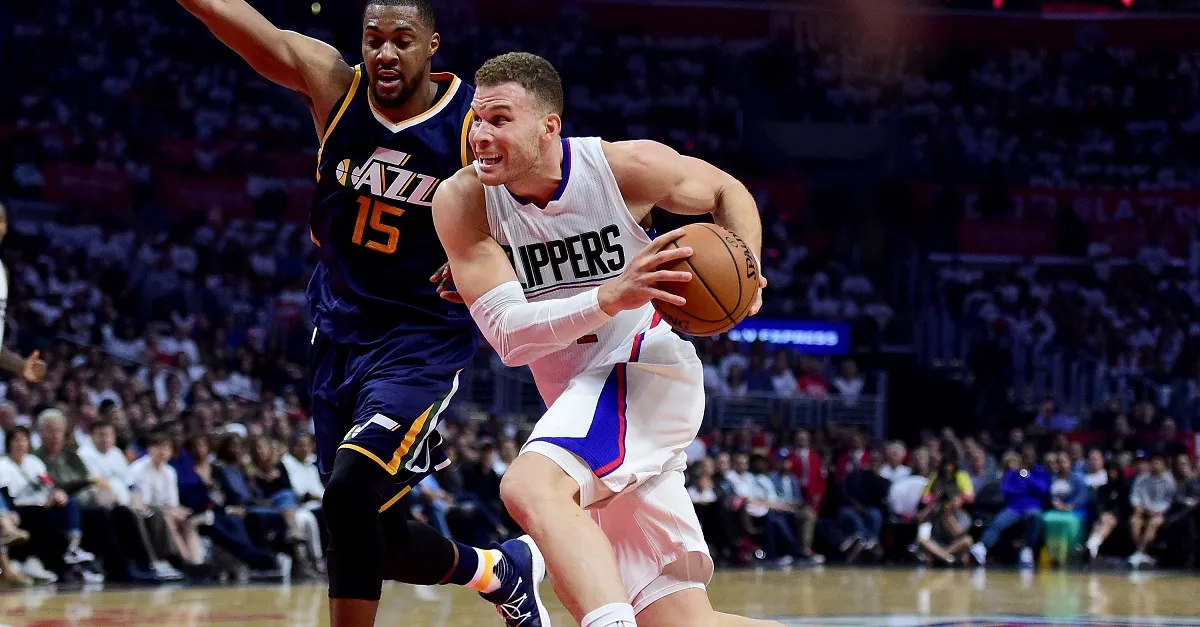 Harry How/Getty Images
LOS ANGELES, CA - APRIL 15: Blake Griffin #32 of the LA Clippers drives on Derrick Favors #15 of the Utah Jazz during the first half at Staples Center on April 15, 2017 in Los Angeles, California. NOTE TO USER: User expressly acknowledges and agrees that, by downloading and or using this photograph, User is consenting to the terms and conditions of the Getty Images License Agreement. (Photo by Harry How/Getty Images)
Jared Dudley believes Los Angeles Clippers' star Blake Griffin could sign with the Miami Heat this summer. Dudley, a former teammate of Griffin's in Los Angeles, talked about Griffin's impending decision on ESPN's The Basketball Analogy podcast in an interview with Kevin Arnovitz.
His reasoning as to why Griffin could sign with the Heat is simple: there is no state income tax in Florida, and he could "be the man" in Miami with all of the Big 3 moving on.
Dudley doesn't just talk about the possibility of Griffin in Miami, though, as he throws out Houston, New York and Dallas as all unrealistic destinations for the former Oklahoma Sooner. It's interesting that he doesn't believe Griffin would consider somewhere like Houston, too, considering their success with Mike D'Antoni this year, Texas being a tax-friendly state, and the possibility of playing with a perennial MVP candidate in James Harden. With New York and Dallas both in rebuilding mode, you can see why Dudley doesn't see them as logical fits.
Dudley points out in the interview, too, that he doesn't think that Griffin, or Chris Paul for that matter, ultimately leave Los Angeles and it may not even be for basketball-related reasons. As Dudley astutely points out, although Griffin may be intrigued by playing for Pat Riley, Erik Spoelestra and the Heat, he'd be surrendering close to $30 million and more years on his contract if he were to sign elsewhere this summer. The same is true for Paul.
Ultimately, it's hard to see Griffin, and especially Paul, walking away from Los Angeles and the kind of contracts the team is expected to offer them this summer. Still, seeing Griffin in a Heat uniform and excelling as The Guy in South Beach while Paul plays out the remainder of his prime in San Antonio for the Spurs would be very cool to see.
[h/t All U Can Heat]