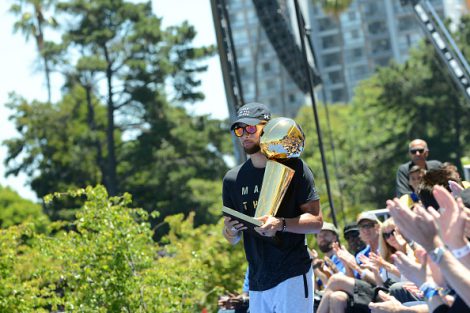 Noah Graham/Getty Images
OAKLAND, CA - JUNE 15: Stephen Curry #30 of the Golden State Warriors holds up the Larry O'Brien Trophy during the Victory Parade and Rally on June 15, 2017 in Oakland, California at The Henry J. Kaiser Convention. NOTE TO USER: User expressly acknowledges and agrees that, by downloading and or using this photograph, User is consenting to the terms and conditions of the Getty Images License Agreement. Mandatory Copyright Notice: Copyright 2017 NBAE (Photo by Noah Graham/NBAE via Getty Images)
Visiting the White House — and thus, the President — after winning a championship is a time-honored tradition in sports, but it's one that the Golden State Warriors may potentially turn down. If you were to ask Jason Whitlock, FS1 pundit, and long-time sports personality, turning that honor down would simply be un-American. In fact, he believes it would be cowardice.
Of course, that's assuming that the Warriors do actually turn down the White House visit and an opportunity to meet and engage with President Trump, and that's not a guarantee. Despite unsubstantiated rumors that the team as a whole was going to spurn the visit, the Warriors have yet to come out with an official stance, saying instead that they would make a decision regarding the White House if and when they get an invite.
That was the official stance, but it's worth noting that all-world guard Steph Curry was a bit more direct. Here's what he had to say, via Kevin Spain of USA Today Sports.
?Somebody asked me about (going to the White House) a couple of months ago, like a hypothetical, if the championship were to happen would I do it and I think I answered ?I wouldn?t go?. I still feel like that today,? he said. ?But, obviously as a team, we?re going to have a conversation.
It's not a new phenomenon, athletes making a political statement by skipping out on the trip to the White House, but a whole team collectively deciding to "boycott" the White House would make front page headlines — both in the sports world and in the political arena. But even if Curry decides to stay back while some of his team goes, Whitlock doesn't care. Recently appearing on the Fox Business Channel, the never-subtle personality unloaded on Curry and the Warriors, accusing them of wanting to hide from something (or someone) they disagree with, rather than engaging President Trump and perhaps discussing, or even debating, their differences.
Jorge Alonso of Bro Bible passed on the transcription of Whitlock's diatribe:
?This is a San Francisco, Silicon Valley-based basketball team. Steph Curry is part of that culture that instead of engaging with people we disagree with, we want to eliminate people we disagree with. American has never been about that. That?s not a healthy strategy. If Steph Curry and members of the Golden State Warriors have strong disagreements with President Trump, they should go engage him in debate and discussion, and make their disagreements known to him, and give him an opportunity to react. This whole thing of resist, and we?re not going to deal with this person, and we?re going to ignore this person, it?s unhealthy, it?s un-American, it?s really cowardly. I like Steph Curry a lot, but he is a young person being led astray by social media and people in this country that just want to overthrow everything.?
You can also watch video of Whitlock's rant below:
Whitlock perhaps went a bit far by calling the Warriors cowardly, but he does make a good point.
You don't need to be a political science major to understand that the United States as a whole is extremely divided right now, and while there is something to be said for making a political statement, the Warriors do have an opportunity to make their voices heard in an audible, tangible way.
Related: The Warriors are no strangers to calling out President Donald Trump
An audience with one of the most powerful people in the world isn't afforded to just anybody, and the Warriors — and their individual players — will have to determine whether or not that opportunity makes sense in light of the social change that they want to stand for.
Either way, a statement will be made.
(H/T Total Pro Sports)