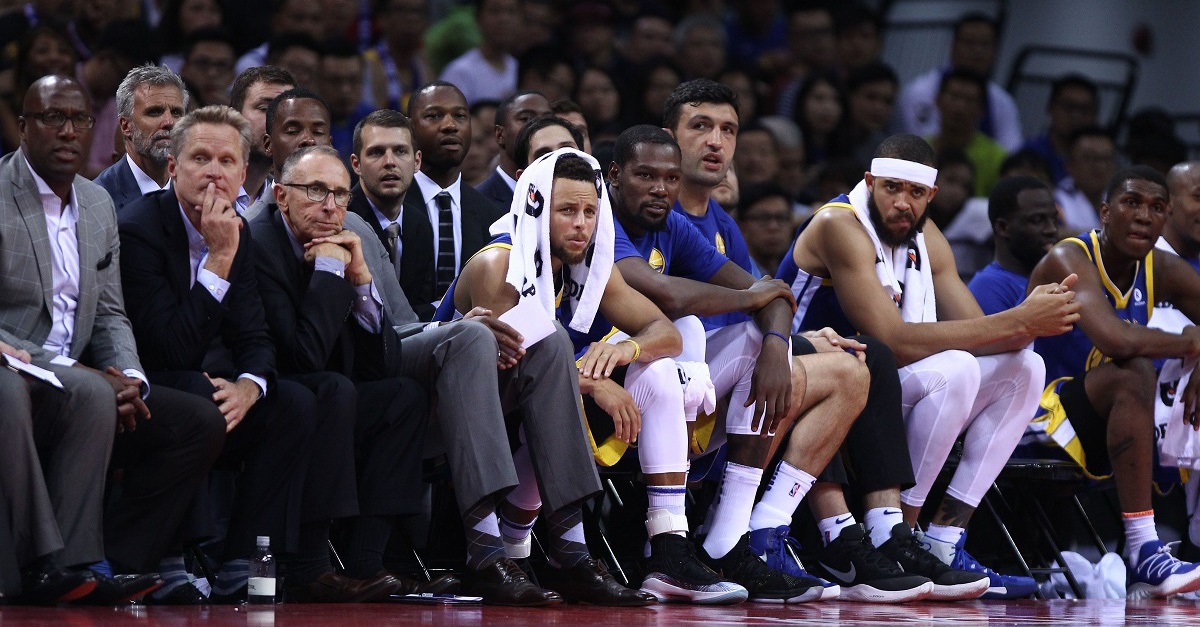 Zhong Zhi/Getty Images
SHENZHEN, CHINA - OCTOBER 05: Stephen Curry #30, Kevin Durant #35, Zaza Pachulia #27, JaVale McGee #1 and coach Steve Kerr of the Golden State Warriors react during the game between the Minnesota Timberwolves and the Golden State Warriors as part of 2017 NBA Global Games China at Universidade Center on October 5, 2017 in Shenzhen, China. (Photo by Zhong Zhi/Getty Images)
The Milwaukee Bucks have reportedly reached out to the Golden State Warriors to discuss trade possibilities centered around one of the Warriors' big men, according to Marcus Thompson of The Athletic.
With the emergence of rookie Jordan Bell, the Warriors look to have quite a few big men on their roster and could look to trade one of those players to the Bucks or another team. Although the team likely wouldn't part ways with a promising young player like Bell, they could look to move Zaza Pachulia or JaVale McGee for the right price.
From The Athletic:
?Multiple sources confirmed the Warriors and Milwaukee Bucks have discussed a trade. Nothing is imminent, but the Bucks are on the market for a center and the Warriors are overstocked. The on-and-off conversations between the teams have included the Bucks inquiring about Pachulia and McGee. No doubt, they've asked about Bell but that conversation ended quickly.

Pachulia, who formerly played with Milwaukee, is going to be hard to pry from the Warriors. Kerr feels comfortable with him and Pachulia is the Warriors' best defensive center against big men. He has value that is hard to replace — as evidenced by him negating Tristan Thompson in the Finals.?
McGee is averaging just 3.7 points in 8.1 minutes per game this season and could be the odd man out should the Warriors look to make a trade. Bell, a second-round pick from Oregon, has nine starts this season for the Warriors, including a start in each of the past seven games.
Although the Warriors have depth in the frontcourt, the team may decide against making a trade for the time being in order to maintain their depth at the position.