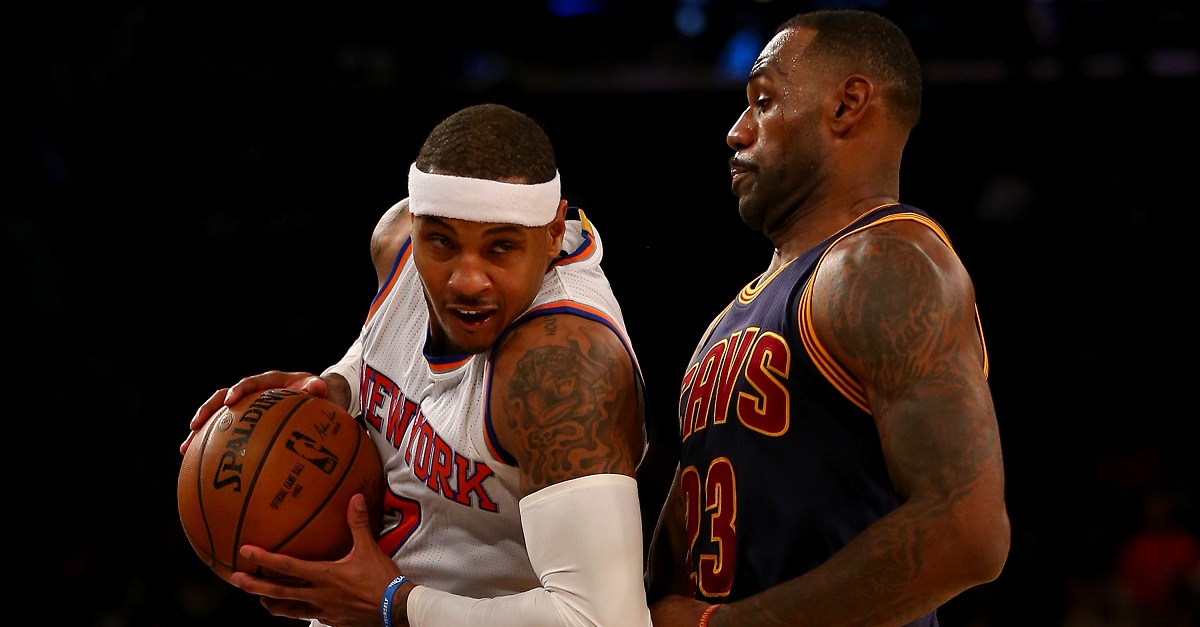 Elsa/Getty Images
NEW YORK, NY - NOVEMBER 13: Carmelo Anthony #7 of the New York Knicks tries to get around LeBron James #23 of the Cleveland Cavaliers in the fourth quarter at Madison Square Garden on November 13, 2015 in New York City.NOTE TO USER: User expressly acknowledges and agrees that, by downloading and/or using this photograph, user is consenting to the terms and conditions of the Getty Images License Agreement.The Cleveland Cavaliers defeated the New York Knicks 90-84. (Photo by Elsa/Getty Images)
ESPN NBA analyst Jeff Van Gundy has never been afraid to speak his mind and he didn't start here when talking about New York Knicks' forward Carmelo Anthony.
Anthony, who has been rumored to be longing to joining James Harden and Chris Paul on the Houston Rockets to form a new Big 3, would also be reuniting with former Knick head coach Mike D'Antoni.
In an interview with the New York Post, Van Gundy expressed both his excitement for the Paul and Harden pairing, but pointed out that adding Anthony may not be a good fit considering the team needs more defensive help.
"I think they have a lot on their plate integrating Paul and [James] Harden," Van Gundy said. "They're not going to be better offensively than they were last year. They were the second-best team in the league offensively. I thought they had defined roles everyone knew. [Coach] Mike D'Antoni did a fabulous job getting them to play on a consistent basis. The Chris Paul trade, there's going to be some ups and downs, but they're better equipped to win in the playoffs. Particularly if Harden has a bad night, they still have a superior player to play through. Their improvement is going to have to be defensively. So I'm interested in the Carmelo thing. I don't necessarily see it as a natural fit.''
It should be interesting to see if Anthony gets his wish and is moved to the Rockets this summer because the questions that Van Gundy points out in the piece are more than fair. The Rockets are already a great offensive team and Paul should only help ease the offensive burden for Harden, but Anthony may not move the needle anymore for D'Antoni's team.