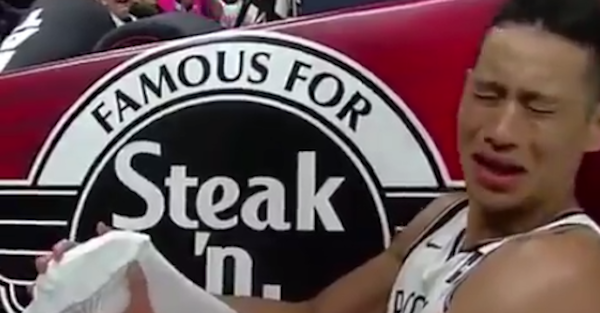 @tjmanotoc/Twitter
Jeremy Lin will miss the rest of the season after suffering a ruptured patellar tendon Wednesday night against the Indiana Pacers.
It's awful news for Lin, who started his eighth NBA season and second with the Brooklyn Nets.
He was forced to leave the game in the fourth quarter after suffering a non-contact injury. You can see the heartbreaking video above, where Lin lands and it takes a second to register what happened before he mutters, "I'm done," and breaks down on the court.
The 29-year-old veteran has spent time with the Golden State Warriors, New York Knicks, Houston Rockets, Los Angeles Lakers, Charlotte Hornets and now the Nets over his career.