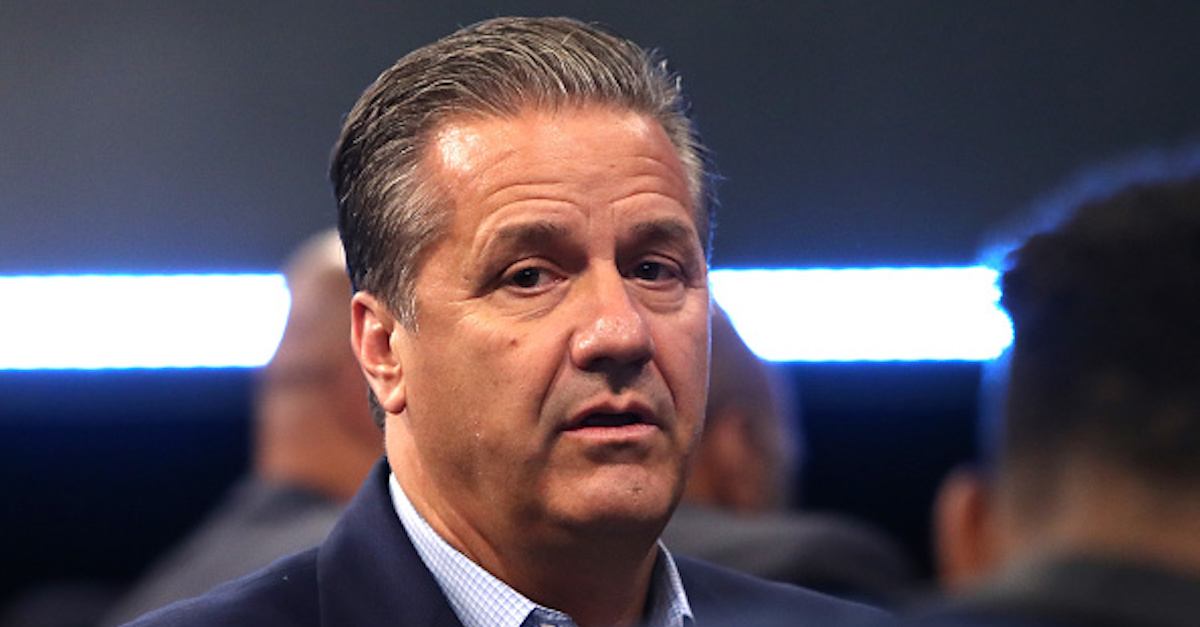 Mike Lawrie/Getty Images
NEW YORK, NY - JUNE 22: Head coach John Calipari of the Kentucky Wildcats looks on during the first round of the 2017 NBA Draft at Barclays Center on June 22, 2017 in New York City. NOTE TO USER: User expressly acknowledges and agrees that, by downloading and or using this photograph, User is consenting to the terms and conditions of the Getty Images License Agreement. (Photo by Mike Lawrie/Getty Images)
Kentucky basketball head coach John Calipari won't be heading to the NBA anytime soon. This, despite a report from Ian Begley of ESPN.com that suggested Calipari reached out via intermediaries to inquire about the opening of president of the New York Knicks — a position Phil Jackson recently vacated.
Calipari, who's currently in Egypt coaching USA Basketball's under-19 World Cup team, responded to the rumors bright and early on Twitter, from halfway across the world.
He also went on ESPN's Mike and Mike to continue dispelling the rumor, obviously feeling very strongly about clearing the air for the Kentucky faithful. Connor Riley of SEC Country broke down Calipari's quotes:
"Well my phone blew up at 4:45 here and I had to tweet out, which is great about social media is that you can cut stuff when it's not true. But there's no one on my behalf who inquired about the Knicks," Calipari said. "I called my wife and I said, 'Is it you?' No. And I called my son and he hasn't called me back so maybe my son had. It's funny I'm in Egypt and I get thrown into stuff when I'm not even in the country."
Calipari did admit that he is close to NBA owners and general managers, but that has more to do with him wanting to advocate for his players in the NBA draft and less to do with him keeping an eye on potential openings in the world's top basketball league.
"I don't think every year but there have been times when it happens. Because of what happens every year when I'm in that green room trying to help my kids get drafted. I like to have relationships with those owners and GMs and presidents so on draft night I can pick up the phone on draft night and say, 'Hey what are you thinking about my guy?'"
The NBA is the cream of the crop in basketball, but it's not as if Calipari has it bad at Kentucky. In fact, he has one of the best gigs in sports. Year-after-year, much in thanks to his abilities as a recruiter, mind you, he gets a handful of the top college basketball recruits in the country. Kentucky is always right up there near No. 1 in recruiting rankings by the time all is said and done, so even when he loses 3-to-5 starters to the NBA draft after only one season with the team — he can easily replace them via recruiting and start over again in the pursuit of another national championship.
Some programs have trouble landing one five-star recruit every few cycles. Kentucky gets a handful of five-star, nearly NBA-ready recruits, every recruiting cycle. Why in the world would Calipari want to leave a very stable and successful situation at Kentucky for what has been the opposite in New York — even if it was for a high-powered NBA front office gig?
He seemed to agree with that assessment, for what it's worth:
"In my mind I've got the best job in the country," Calipari said. "I just can't see anything out there that I would want to leave for."
Calipari to the NBA rumors won't go away as long as he's one of the top college basketball minds and recruiters in the country. With that said, this one clearly doesn't have any wings.