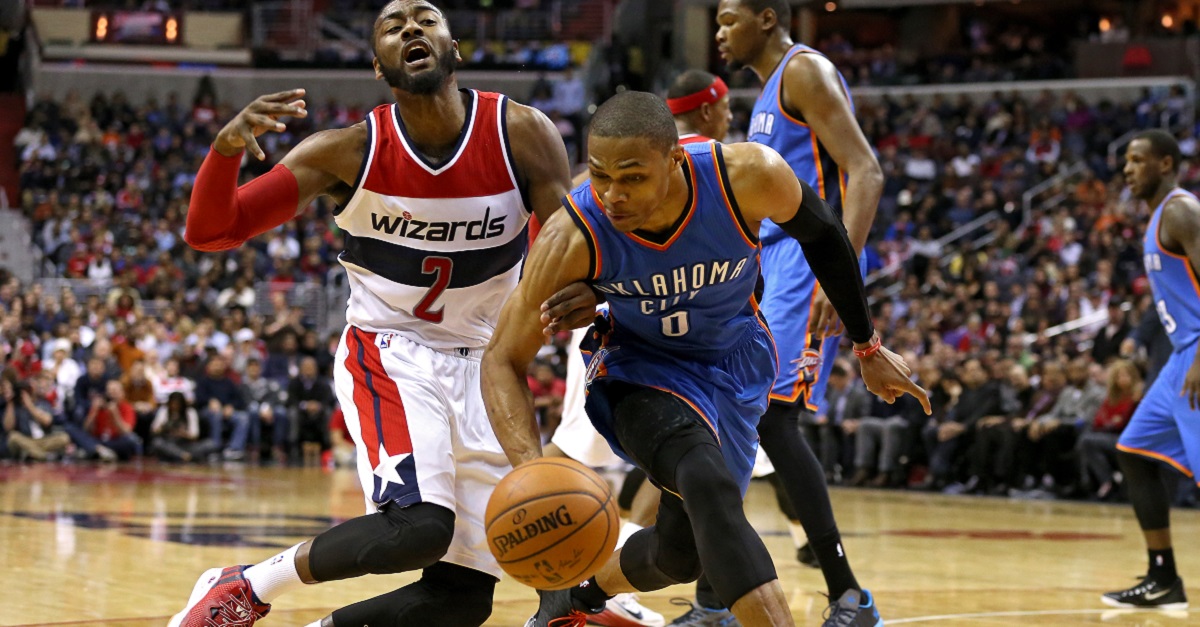 Patrick Smith/Getty Images
WASHINGTON, DC - JANUARY 21: Russell Westbrook #0 of the Oklahoma City Thunder steals the ball from John Wall #2 of the Washington Wizards in the second half at Verizon Center on January 21, 2015 in Washington, DC. The Oklahoma City Thunder won, 105-103, in overtime. NOTE TO USER: User expressly acknowledges and agrees that, by downloading and or using this photograph, User is consenting to the terms and conditions of the Getty Images License Agreement. (Photo by Patrick Smith/Getty Images)
The new salary cap rules for the NBA have made another player a $200 million player.
According to David Aldridge of Turner Sports, John Wall has agreed to a contract extension with the Washington Wizards that will ultimately pay him up to $207 million through 2023.
The reported four-year, $170 million dollar extension will tack on to Wall's contract — with two-year, $37 million remaining — that expires in 2019.
Wall was the No. 1 overall pick in the 2010 NBA Draft out of Kentucky, and he has since become one of the top point guards in the NBA. Wall has helped turn the Wizards into a contender in the Eastern Conference, and this extension will likely keep Washington in that realm for the coming years.
Wall, a four-time All-Star, has averaged 18.8 points and 9.2 assists per game in his career so far.