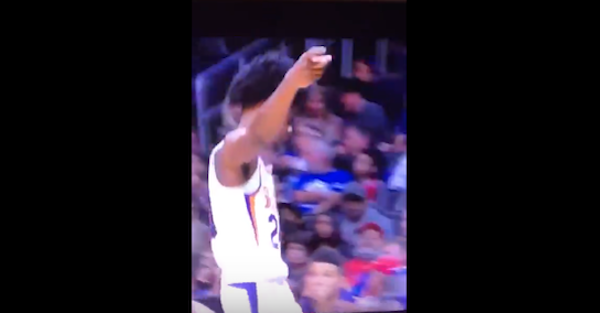 YouTube screenshot
The Phoenix Suns have been pretty horrendous over the first three games of the 2017-18 season, and that's already in the head of No. 4 overall pick Josh Jackson.
Jackson, who's had to suffer a 48-point loss in the season-opener, a two-point loss against the Los Angeles Lakers and most recently a 42-point loss at the hands of the Los Angeles Clippers has had enough.
In the fourth quarter of the Suns' latest loss, Jackson appeared to trigger a gun motion toward a fan before mouthing "f**k you."
https://www.youtube.com/watch?v=Qv6j-OTyoDI
This is an awful look for the rookie, taken out of Kansas in the first round.
The 6'8″, 207-pound Jackson has averaged 11 points and one rebound on 36 percent shooting from the field in three starts.
This isn't the first time an NBA player interacted with a fan, as just a day ago someone recorded Kyrie Irving yelling for a fan to "suck his d**k," after asking about LeBron.
We'll see what the league has to say about this one.