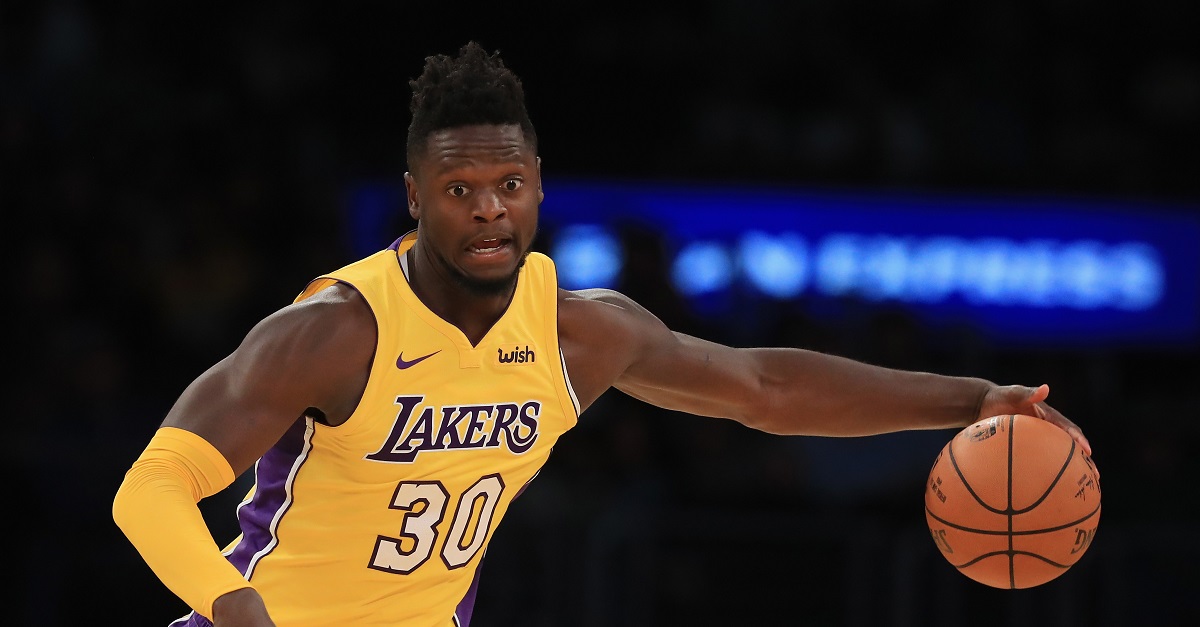 Sean M. Haffey/Getty Images
LOS ANGELES, CA - OCTOBER 02: Julius Randle #30 of the Los Angeles Lakers dribbles upcourt during the second half of a preseason game against the Denver Nuggets at Staples Center on October 2, 2017 in Los Angeles, California. NOTE TO USER: User expressly acknowledges and agrees that, by downloading and or using this Photograph, user is consenting to the terms and conditions of the Getty Images License Agreement (Photo by Sean M. Haffey/Getty Images)
The future for Julius Randle may be ending sooner with the Los Angeles Lakers than later, according to Adrian Wojnarowski of ESPN. The former No. 7 overall pick in the 2014 draft has seen his role diminish this season and could be on his way out of town.
From Woj on ESPN:
One player whose future is very unlikely to continue with the Lakers is Julius Randle.
As he pointed out on ESPN, the Lakers have a few options with Randle. They could potentially look to trade him by the trade deadline or they could keep him around this season and see how things play out next summer when he can become a restricted free agent. The Lakers have made it no secret that they are looking to clear as much cap space as possible next summer in order to pursue top free agents like LeBron James and Paul George so they might be inclined to trade Randle.
If the Lakers decided to keep Randle this season, he'll carry a $12,447,727 cap hold in free agency should the team extend him a $5.5 million qualifying offer. For a team looking to clear as much cap space as possible, a $12,447,727 cap hold could potentially prevent the team from creating enough space to chase two max-contract players in free agency like LeBron James and Paul George.
In 11 games this season, Randle is averaging 11.5 points, 6.3 rebounds and 1.7 assists. In addition, he's averaging a career-low 18.8 minutes per game. The Lakers opted to move Randle to the bench this season with the emergence of rookie Kyle Kuzma. If the team knows they will have a good chance to sign a top free agent, it seems like it would be the best bet to trade Randle now and acquire some assets in return for him rather than lose him for nothing.
In limited time this season, Randle has proven to be a great option for the Lakers. Teams that have an opportunity for playing time could look to trade for him as he's proven to be a capable starter in past seasons. With the Lakers set on signing star players next year, it may be time for Randle to be moved.