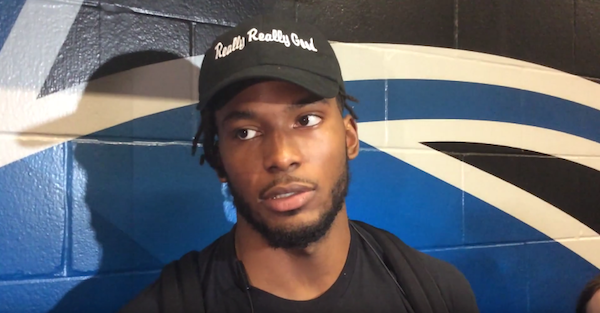 NBA Summer League is usually a place for rookies and second-year players to improve their games and work on some of the smaller things before heading into the NBA regular season. This year's Summer League holds a little more importance for Miami Heat players as Dwyane Wade is now in Chicago and Luol Deng is in Los Angeles.
RELATED: Dwyane Wade will sign with a team, just not Miami
The young core of Briante Weber, Josh Richardson and Justise Winslow will get a much bigger workload now that those guys are gone as well as up-and-coming s guard Tyler Johnson — he was offered a $50 million contract by the Brooklyn Nets. This is a perfect time to work on the smaller things for Winslow and he said he's been doing exactly that since the end of the season.
RELATED: Justise Winslow might have given the best quote of the season already
He talked about tweaking his shot a little bit as he only shot 42.2 percent from the floor and 27.6 percent from beyond the arch. His shot has definitely improved even in the small sample size of Summer League — although his percentages won't show it — and he's gotten a lot bigger than when he entered the league.
RELATED: Justise Winslow introduces himself to Al Jefferson with this jam
Winslow talked with the media about what he's been doing in the offseason to get better and most of it has been staying in the gym. However, he probably doesn't spend as much time there as he likes to work smarter rather than harder.

"When it comes to NBA training, it's more about working smarter than harder. A lot of guys will be out there going three hours, but if you can minimize that three hours to a very efficient 45 minutes then that's a job well done. It's not about the quantity of shots, but the quality. Making every shot count, not shooting anything lazy, focusing, dialing in on each shot. That's something that's been helpful because 82 games is a lot. You don't want to kill yourself all season."
Winslow also talked about how he watched guys like Wade, Chris Bosh and Deng perform as professionals and how he wants to take habits from all three of those guys into next season. He says all of them helped him with his work ethic, focus on details and what it means to be a professional basketball player.
Winslow looks like he will be a starter next year after a developmental rookie season and the Miami Heat might be in the middle of a rebuild with so many veterans gone and the potential for Bosh to not play the whole season. It sounds like he's ready to take on the burden though and Heat fans are certainly hoping he can.