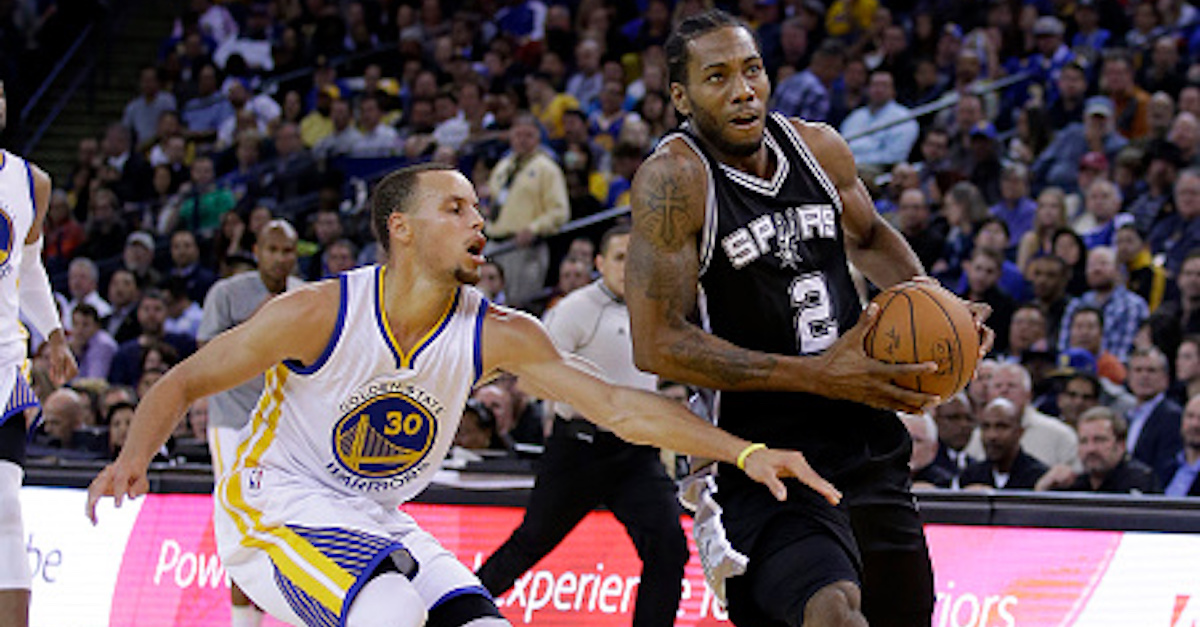 Ezra Shaw/Getty Images
at ORACLE Arena on November 11, 2014 in Oakland, California. NOTE TO USER: User expressly acknowledges and agrees that, by downloading and or using this photograph, User is consenting to the terms and conditions of the Getty Images License Agreement.
In order for the San Antonio Spurs to take a legitimate shot at the Golden State Warriors in the Western Conference this season, they'll need Kawhi Leonard to have a MVP-like season.
Unfortunately, as reported by the team, Leonard is at the very least projected to miss the NBA's preseason with an injury. Per the Spurs, his right quadriceps tendinopathy is still an issue that requires rehab, and the timeline for his return to the court is up in the air.
Here's the team's statement:
"Spurs forward Kawhi Leonard continues a rehabilitation program for right quadriceps tendinopathy. He is expected to miss the 2017 preseason. A timeline for his return to the court will be determined at a later date."
This is a good news, bad news situation for the Spurs. On one hand, it's only the preseason, and that's valuable time for Leonard to continue his recovery. On the other, the Spurs couldn't say when Leonard would be available to return, so there does seem to be a real chance that he could miss time during the 2017-18 regular season.
That's speculation at this point, but it wouldn't be surprising.
And while it is only preseason ball, one has to wonder how missing the time to warm up and get back into game shape will impact Leonard's game, at least right when he returns.
He's a tremendous player — he averaged 25.5 points, 3.5 assists, and 5.8 rebounds per game last season — but even the best players in the NBA need some time to get their groove back.
It will be interesting to see how this injury impacts both Leonard and the Spurs this season.