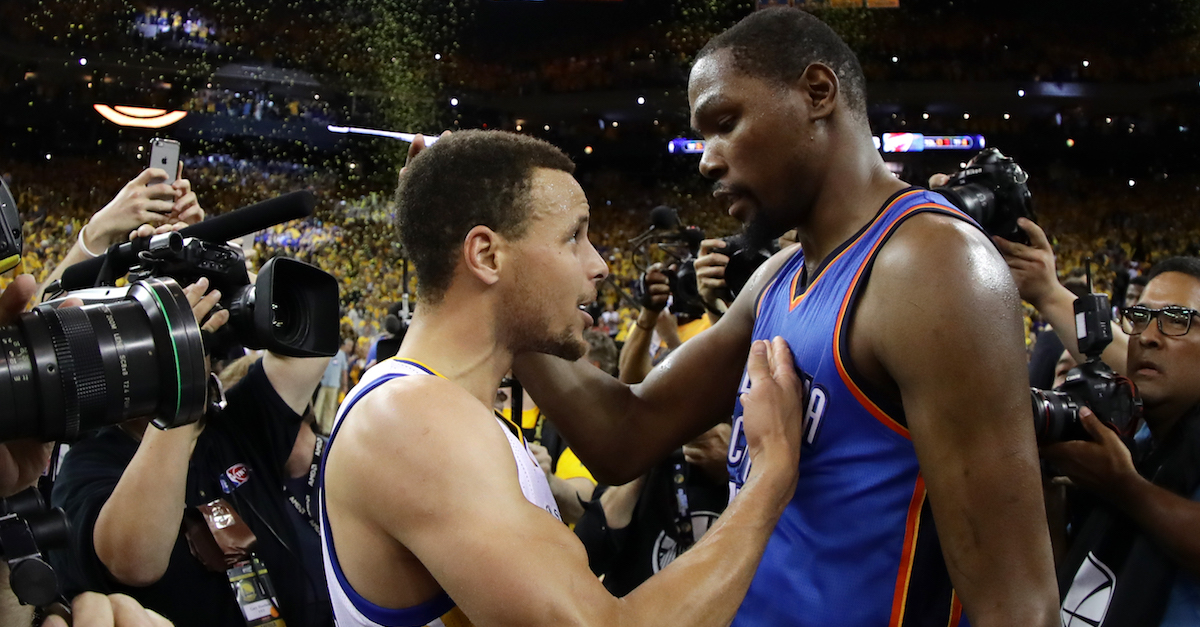 OAKLAND, CA - MAY 30: Stephen Curry #30 of the Golden State Warriors speaks with Kevin Durant #35 of the Oklahoma City Thunder after their 96-88 win in Game Seven of the Western Conference Finals during the 2016 NBA Playoffs at ORACLE Arena on May 30, 2016 in Oakland, California. NOTE TO USER: User expressly acknowledges and agrees that, by downloading and or using this photograph, User is consenting to the terms and conditions of the Getty Images License Agreement. (Photo by Ezra Shaw/Getty Images)
The signing of Kevin Durant is officially done and he's been introduced as a Warrior. There were some mean things to be said by Twitter folk who resented him leaving Oklahoma City and Durant making his shoes more expensive didn't really help his cause.
RELATED: This quote proves that Durant has gone into full villain mode
Here's another quote that's really not going earn him any more fans and that's that he believes "this is the hardest road" to a championship. Now while that quote might be misleading, here is the quote in its entirety so that you can make the judgment for yourself:
RELATED: This kid is how everyone feels after Kevin Durant decided on Golden State
I think he'll find he's much more comfortable with a point guard who's willing to give him the ball more often than Westbrook did in their eight seasons together. Finding a nice neighborhood won't be that hard in the Bay Area and the team is going to embrace him with everything its got. And I don't think that comfort zone is going to stay the same for very long once the team gets to practicing with each other and these guys see each other every day for an entire season.