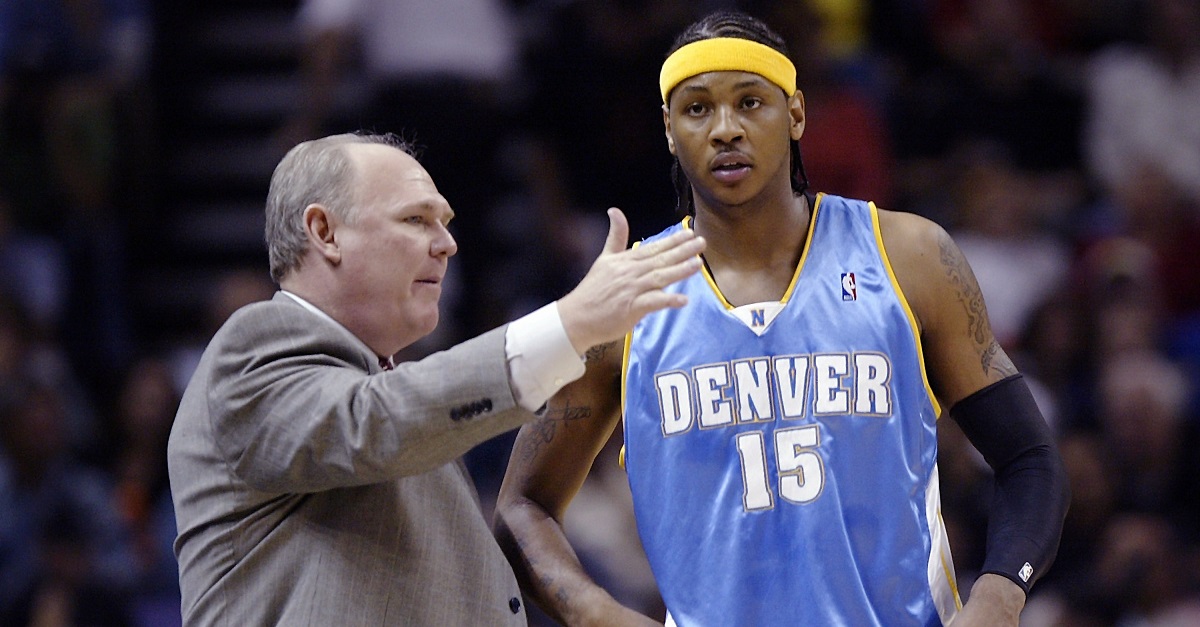 Brian Bahr/Getty Images
SAN ANTONIO - APRIL 27: Head coach Goerge Karl of the Denver Nuggets talks with Carmelo Anthony #15 during their game against the San Antonio Spurs, Game two of the Western Conference Quarterfinals during the 2005 NBA Playoffs at the SBC Center on April 27, 2005 in San Antonio, Texas. The Spurs won 104-76. NOTE TO USER: USER expressly acknowledges and agrees that, by downloading and or using this photograph, User is consenting to the terms and conditions of the Getty Images License Agreement. (Photo by Brian Bahr/Getty Images)
Former journeyman coach George Karl just released a book titled "Furious George" about his time coaching in the NBA and there was one particular stop along the way he did not enjoy. In his penultimate stop with the Denver Nuggets he was "saddled" with talent like Kenyon Martin and Carmelo Anthony.
RELATED: Kings reportedly set to fire George Karl…again
In a small passage from his book he took a couple heavy-handed shots against Martin and Melo:
And he went even further by completely trashing Melo with these comments that will definitely upset more than one person:
"He was the best offensive player I ever coached. He was also a user of people, addicted to the spotlight and very unhappy when he had to share it.

"He really lit my fuse with his low demand of himself on defense. He had no commitment to the hard, dirty work of stopping the other guy."
RELATED: George Karl knew the exact moment his tenure in Sacramento was over
That prompted the former top overall pick Kenyon Martin to go on a Twitter rant that absolutely eviscerated the coach.
How's that for some vitriol? Looks like there are still some hard feelings there for Martin who played in Denver from 2004 to 2011.