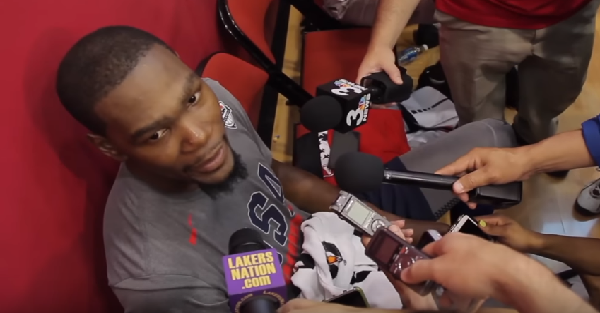 The Olympics are right around the corner in Rio de Janeiro for Team USA Basketball so the team is getting together to practice ahead of time. In between practices, Kevin Durant sat down with the media and spoke about someone on the team he was practicing against — the USA Select Team featuring young up and coming stars — that reminded him of himself.
RELATED: Stephen A. is back at it again, this time lighting up Kevin Durant
Despite the fact that former Duke forward Brandon Ingram has yet to play a meaningful minute of NBA basketball, but he's already drawing favorable comparison to the former MVP Durant. The two matched up against each other during a scrimmage and Durant liked what he saw from the young gun.
"He (Brandon Ingram) reminds me of myself, but he's a little farther along than I was at that stage. I feel like if you continue to keep working, he's with a great organization that's going to push him and put him in a good position to be who he is. Continue to just work hard and believe in himself and everything is possible for him. He's a great player. I watched him almost every game this season. I'm a huge fan, first person I can say that I can look at him and feel like I'm looking in the mirror. I'm rooting for him."
RELATED: Don't rule out this guy as a potential top pick for the 76ers
Both guys were a little underweight coming into the NBA — Durant was listed at 210 and is now listed at 240 pounds — but that's an easy remedy with a year or two living in the weight room. The praise didn't stop just there though as Durant gave some examples of how Ingram is farther along than he was coming into the league.
?He?s a little bit more fluid than I was, as far as skill-wise, a little more advanced than I was at that time. I was just running, jumping, shooting threes. But, he could put the ball on the floor, change directions, get to the rim, shoot the pull-up three, so that stuff started to come a little later on for me, but he?s a little farther along than I was.?
Ingram is listed at 6'9″ and 200 pounds right now, but that should change with the chefs, nutrition staff and weight training staff that teams regularly employ. Ingram should make a push for Rookie of the Year right away with Ben Simmons and a few other players and he's going to be pretty fun to watch as well with the young the Lakers have put together.
[h/t Lakers Nation]