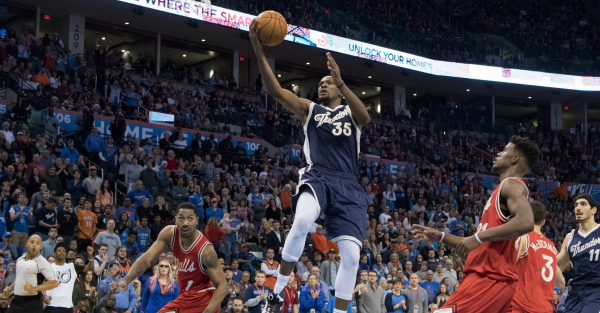 This year's rookie class has been a fun one to watch as guys like Kristaps Porzingis, D'Angelo Russell, Jahlil Okafor, and Karl-Anthony Towns have provided some great moments this season. Towns might be the most consistent of those guys and is averaging almost a double-double with 15.9 points and 9.2 rebounds per game.
Those are pretty great numbers for a 20-year old rookie who only spent one year in college. They're so great that future Hall of Famer Kevin Durant thinks that Towns himself will be a Hall of Famer down the road.
I won't be one to argue with Durant as he's a pretty darn good player himself and probably — ok, definitely — knows more about the game than I do. He's also probably been watching Towns develop his game all season while I'm just here getting excited about the Timberwolves starting him and letting him make his own mistakes along the way. Either way, that's some high praise from KD and hopefully Towns can live up to that prediction.