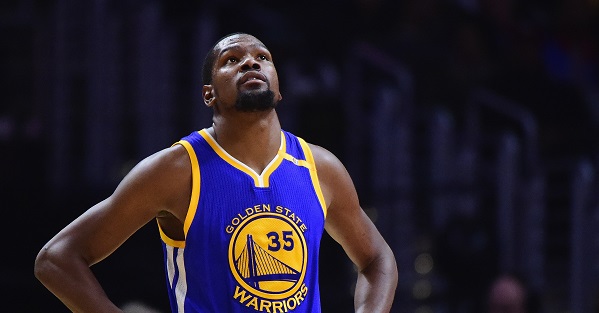 Harry How/Getty Images
Harry How/Getty Images
Kevin Durant can opt out of his contract with the Golden State Warriors this off season and become an unrestricted free agent, and he won't commit to helping the Warriors out with cap space.
Related: NBA fan tried to chirp at Kevin Durant and got absolutely ROASTED
Durant makes just under $27 million this season, and he is set to make just over $27 million next season if he opts in for the final year of his deal. However, if he opts out, his new deal can start at $36 million per year.
The Warriors don't have full Bird rights on Durant, so they will have to use cap space to re-sign him?unless Durant takes less than the max to stay with the Warriors. If he re-signs for $31.8 million instead of $36 million, it would allow the Warriors to re-sign Shaun Livingston and Andre Iguodala, who will also be free agents after this season. Steph Curry will be a free agent as well, but the Warriors own his full Bird rights and will have more freedom with re-signing him.
Durant was asked about his contract situation, and he didn't have much to offer:
?We?ll figure that out when the time comes,? Durant said.
On the other hand, Draymond Green told reporters he would be willing to take less money if it meant the Warriors could remain contenders.
?I don?t feel the need to go tell Shaun and Andre: ?Yo, go take less money, money isn?t everything,?? Green said. ?I don?t feel the need to say that, nor will I say that. You can?t tell what guy what money he should make or what?s important to him or his pocket. I don?t count anyone else?s pocket. Will we recruit them and want them back? Hell yeah. We?ll do everything we can to get them back. But I?m not going to tell them, ?Hey, man, you should stay here for a little less money. You don?t need that money.? That?s not me.?
The Warriors are the favorites to win the NBA title this season, but they might have difficulty keeping this roster together unless someone is willing to take less money to keep the team intact.
(h/t Real GM)