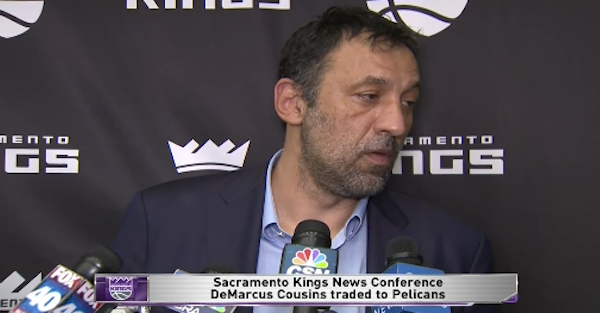 There's no tip-toeing around just how awful the trade of Sacramento Kings big man DeMarcus Cousins was. Somehow, general manager Vlade Divac made it even worse during a media session Monday:
Yes, you heard him right. The Kings had a better trade offer two days prior!
This is what Cousins was eventually traded for:
Cousins is arguably one of the top big men in the NBA today, and pairing him with one of the best up-and-coming fellow big men in the league, Anthony Davis, and standout guard Jrue Holiday makes a serious trio in New Orleans.
The move to trade Cousins comes on the heels of the Kings making public proclamations to keep the disgruntled center.
Here's what Yahoo! reported led to eventually trading the center:
"Two incidents in particular ? an expletive-laced remark Cousins made about Golden State after Sacramento?s overtime win over the Warriors on Feb. 6 and the astonishing 17th technical foul this season, and resulting one-game suspension, against New Orleans on Feb. 12 ? have caused Ranadive to have serious concerns about tethering the franchise to Cousins long term."
The days of the small ball NBA may well be gone. Whether Cousins remains in New Orleans following next season, the last on his deal, remains to be seen.
What are you doing, Sacramento?