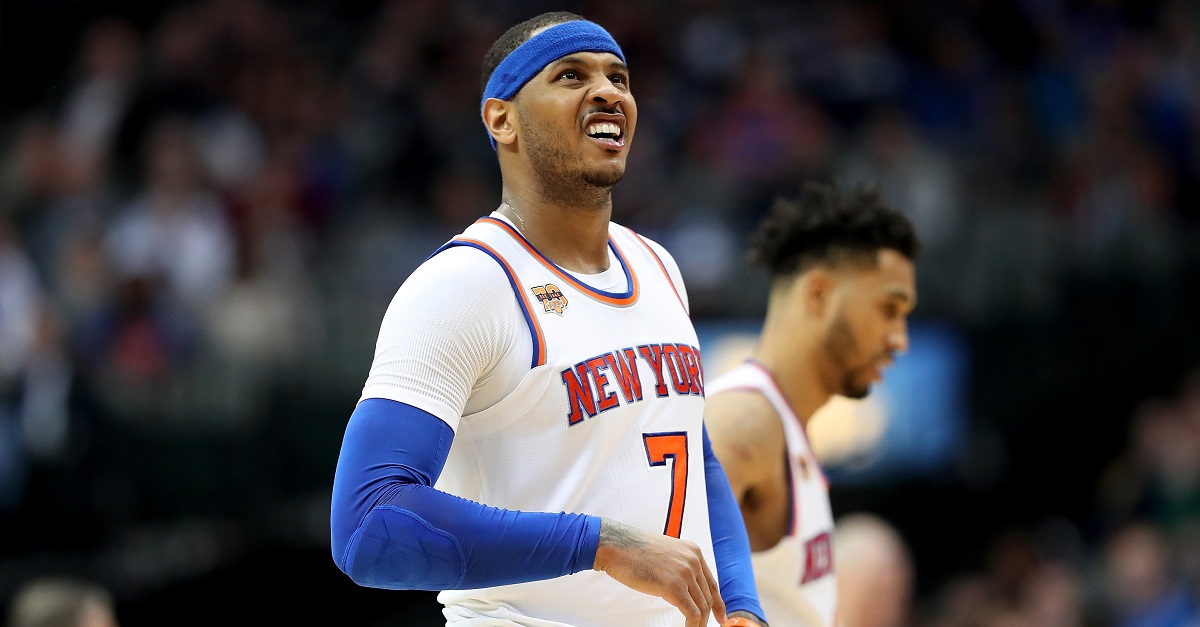 Tom Pennington/Getty Images
DALLAS, TX - JANUARY 25: Carmelo Anthony #7 of the New York Knicks reacts against the Dallas Mavericks in the second half at American Airlines Center on January 25, 2017 in Dallas, Texas. NOTE TO USER: User expressly acknowledges and agrees that, by downloading and or using this photograph, User is consenting to the terms and conditions of the Getty Images License Agreement. (Photo by Tom Pennington/Getty Images)
The New York Knicks are an absolute mess sitting on a 20-27 record and nowhere near competitive some nights. The Phil Jackson experiment is not going the way some people thought it would and he seems to be running the team into the ground with contracts and trades.
RELATED: Knicks made a blockbuster offer to the Cavs, but Cleveland reportedly won't budge
He traded for Derrick Rose who had been through way too many knee surgeries, but has been playing well this season. However, he's not the pass-first point guard that Kristaps Porzingis and Carmelo Anthony need. He also signed Joakim Noah for $72 million, which is just inexcusable. But that isn't the worst part about the whole thing.
Jackson has been trying to move Anthony of all players. There were reports that he tried a Melo-for-Kevin Love straight up trade that was immediately show down. Now, Chris Mannix of Yahoo! Sports is reporting that the Knicks reached out to the Boston Celtics and Los Angeles Clippers to see if they might be interested.
Sources told Yahoo! Sports that Phil Jackson is ?determined? to find a destination for Anthony by the NBA?s trade deadline — Feb. 23 — and he?s ?determined? to get rid of Anthony and his contract, allowing the Knicks to rebuild around their young star Kristaps Prozingis. He's still going to have a hard time doing that with some of the other pieces that are more detrimental to Porzingis' development than Melo.
[h/t The Spun]