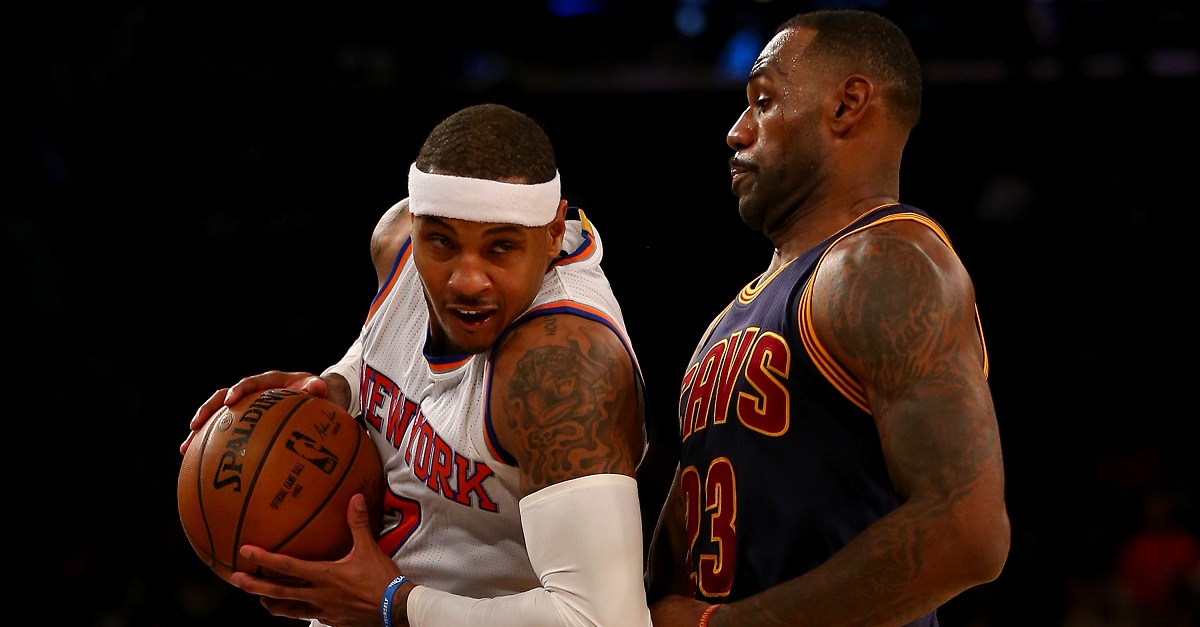 Elsa/Getty Images
NEW YORK, NY - NOVEMBER 13: Carmelo Anthony #7 of the New York Knicks tries to get around LeBron James #23 of the Cleveland Cavaliers in the fourth quarter at Madison Square Garden on November 13, 2015 in New York City.NOTE TO USER: User expressly acknowledges and agrees that, by downloading and/or using this photograph, user is consenting to the terms and conditions of the Getty Images License Agreement.The Cleveland Cavaliers defeated the New York Knicks 90-84. (Photo by Elsa/Getty Images)
A lot has been made about LeBron James' comments about finding a playmaker for the Cavaliers. They've lost five of their last seven games and some of their players have been logging way too many minutes for his liking. James pretty much called out his front office and said that a "playmaker" needs to be found if they want to compete for a ring again this year.
RELATED: After pissed off LeBron James talked down roster and management, Cavs reportedly eyeing 3 trade targets
That has led to speculation about three potential targets for trades and now there appears to be an unexpected fourth. However, it's not really for a playmakers so much as a shot maker.
The Cavaliers definitely made the right call on this one as they would have to figure out how to spread the ball around even more with Melo on the floor. Love doesn't need plays run for him and is a much more reliable player as well as rebounder than Anthony. So much for the Knicks and Phil Jackson sticking with Anthony on this one.