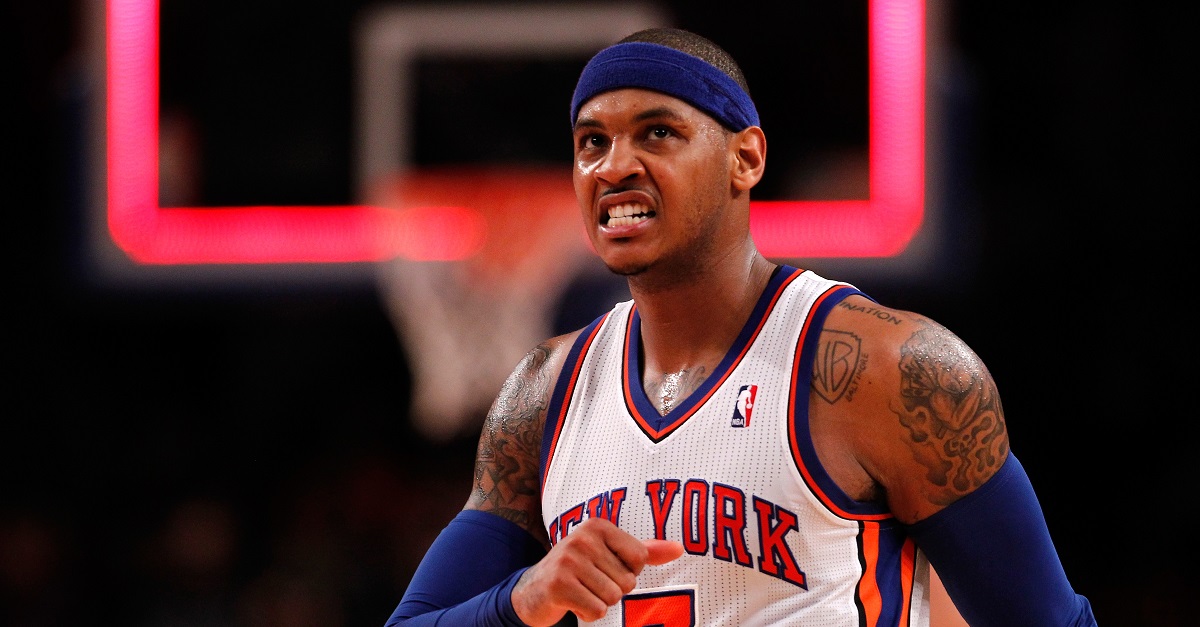 Jeff Zelevansky/Getty Images
NEW YORK, NY - MAY 06: Carmelo Anthony #7 of the New York Knicks reacts in the second half against the Miami Heat in Game Four of the Eastern Conference Quarterfinals in the 2012 NBA Playoffs on May 6, 2012 at Madison Square Garden in New York City. NOTE TO USER: User expressly acknowledges and agrees that, by downloading and or using this photograph, User is consenting to the terms and conditions of the Getty Images License Agreement (Photo by Jeff Zelevansky/Getty Images)
New York Knicks forward Carmelo Anthony wants to play for the Houston Rockets and only the Houston Rockets, according to the New York Post.
And it's with that bit of news that ESPN's Adrian Wojnarowski reports the Knicks and Rockets are re-engaged on a trade centered around Anthony:
"Nevertheless, no pathway has emerged for a deal directly between the two teams, and finding a broader package to include forward Ryan Andersonand the three-years, $60 million left on his contract remains problematic, league sources said. The Rockets and Knicks made significant progress on a deal with Phil Jackson as Knicks president, but that changed with the hiring of new general manager Scott Perry, who has been far more particular about the package he'd want in return for Anthony."
Anthony, who has a no-trade clause, was originally suspected to be interested in joining good friend LeBron James and the Cleveland Cavaliers, which would be ideal for the Knicks, who are among the teams listed on Cavs All-Star point guard Kyrie Irving's trade wish list.
However, Cleveland's lack of stability in the front office has reportedly scared off Melo, who will reportedly only waive his clause if traded to Houston.
From the Post:
"A stalemate has ensued as sources indicate Anthony only wishes to waive his no-trade clause to go to the Rockets. Not even Cleveland, which is in turmoil, is good enough for Anthony as the Cavaliers are dealing with Kyrie Irving's trade demand."
Last month, Jeff Zilligitt of USA Today reported that Cleveland was close to acquiring All-Star Jimmy Butler from the Chicago Bulls on the same day as Griffin's departure.
"Further exacerbating James' frustration is the Cavs were close to making a deal for then-Chicago Bulls All-Star Jimmy Butler the day Gilbert decided to mutually part ways with Griffin and Redden, two people familiar with negotiations told USA TODAY Sports. They requested anonymity because they were not authorized to speak publicly on the negotiations," Zilligitt wrote on Tuesday.
Instead, the Bulls shipped Butler to the Minnesota Timberwolves just a few days later on draft night, while the Cavs have only added Jose Calderon, Jeff Green and Cedi Osman this offseason.
According to the report, Anthony is unwilling to expand his list of possible destinations.
Anthony has been rumored to be on the trade block throughout the offseason due to his tumultuous relationship with former president Phil Jackson. Despite Jackson's departure, it doesn't look like his situation with the Knicks is reconcilable.