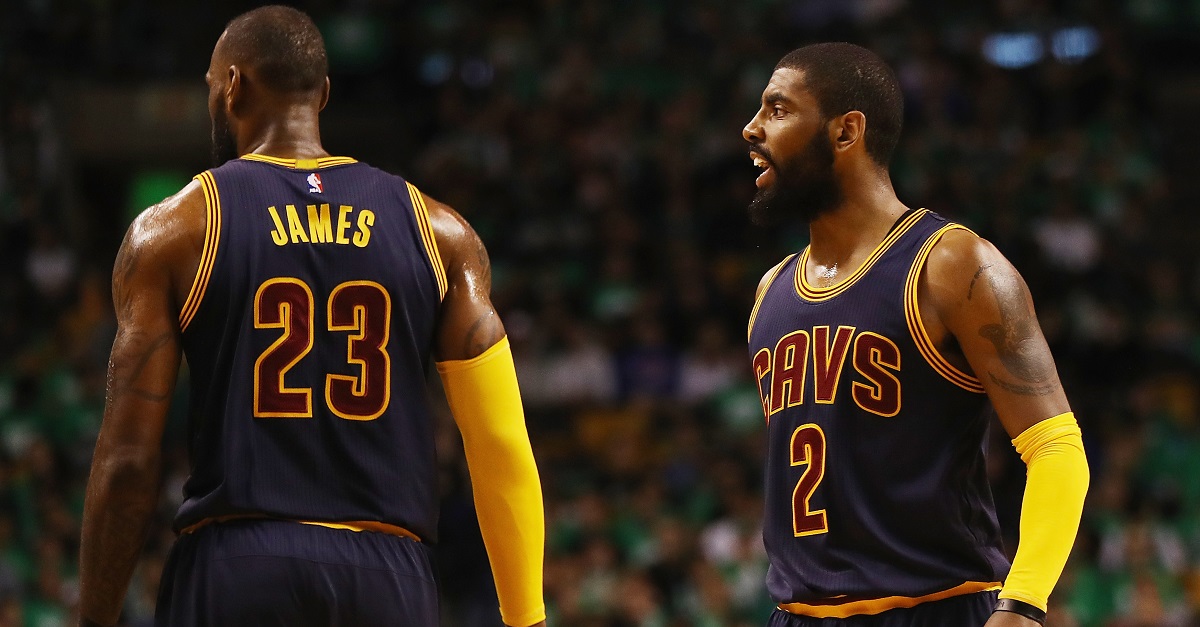 Elsa/Getty Images
BOSTON, MA - MAY 25: Kyrie Irving #2 of the Cleveland Cavaliers reacts in the first half against the Boston Celtics during Game Five of the 2017 NBA Eastern Conference Finals at TD Garden on May 25, 2017 in Boston, Massachusetts. NOTE TO USER: User expressly acknowledges and agrees that, by downloading and or using this photograph, User is consenting to the terms and conditions of the Getty Images License Agreement. (Photo by Elsa/Getty Images)
Kyrie Irving rumors have been swirling this entire month as it's been made clear by someone in his camp that he wants out of Cleveland. Some people believe he's just trying to get out and leave before LeBron James inevitably leaves him next summer while others think he wants to be the superstar on a team. However, it seems that neither of those are the reasons for an Irving trade demand according to a report from The Undefeated.
RELATED: Six teams have reportedly made trade offers for Cavaliers' Kyrie Irving
The detailed feature on Irving's relationship with James had some commentary from a source who is apparently quite close to Irving. Here's what he told The Undefeated:
?Kyrie isn?t saying he?s better than LeBron and should be seen that way,? a close confidant of Irving?s told me. ?He?s saying he?s not about to let LeBron ?SON? him ? treating him like he?s the child and LeBron?s the father or big brother he?s supposed to look up to.

?Kyrie knows he?s a franchise-caliber talent. He wants to be treated like it. And he?s tired of hearing about what LeBron needs, and he?s damn sure tired of hearing LeBron sound like he always needs more. As if the crew they have isn?t enough.?
Irving had arguably the best year of his career this season and didn't make any All-NBA team. He was overshadowed by other great guards like Stephen Curry, James Harden, Russell Westbrook, Isaiah Thomas and John Wall this year. He probably feels that if he puts up the numbers he did — 25.2 points per game, 5.8 assists per game and 3.2 rebounds per game while shooting 47.3 percent from the floor — elsewhere then he gets the recognition he deserves.
Irving is at a point in his career when he become the mentor to a younger team as well and help them win some games on their way to becoming a perennial playoff contender. However, he won't have to help them too much if the team he gets traded to is one of his preferred destinations in San Antonio, Miami, Minnesota or New York with the Knicks being the exception.