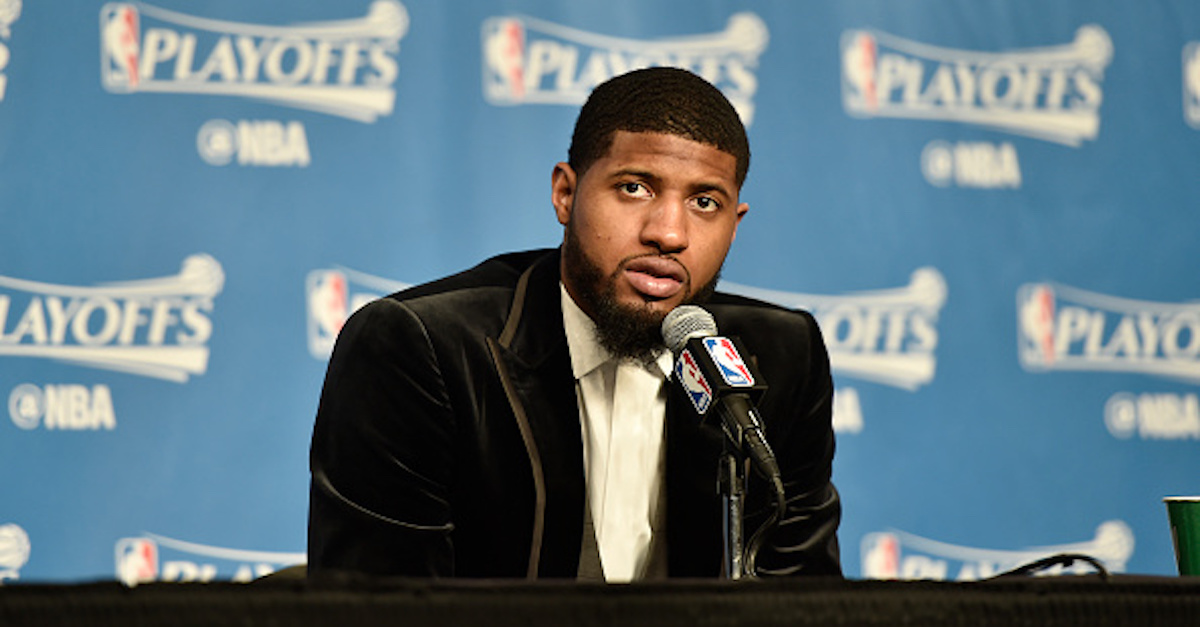 David Liam Kyle/NBAE via Getty Images
CLEVELAND, OH - APRIL 15: Paul George #13 of the Indiana Pacers speaks to the media after a game against the Cleveland Cavaliers in Round One of the Eastern Conference Playoffs during the 2017 NBA Playoffs on April 15, 2017 at Quicken Loans Arena in Cleveland, Ohio. NOTE TO USER: User expressly acknowledges and agrees that, by downloading and/or using this photograph, user is consenting to the terms and conditions of the Getty Images License Agreement. Mandatory Copyright Notice: Copyright 2017 NBAE (Photo by David Liam Kyle/NBAE via Getty Images)
The Los Angeles Lakers may be in a bit of trouble with the NBA for tampering in the affairs of the Indiana Pacers and Paul George.
If the league finds evidence and can prove the Lakers are guilty of "impermissible contact" with George, the NBA could take away draft picks, fine the organization or even set future restrictions on acquiring George, according to Ohm Youngmisuk and Bobby Marks of ESPN.
What are the potential penalties the Lakers are facing? Here's Marks' answer:
The CBA does give the commissioner broad power to implement significant penalties if there is concrete evidence that the Lakers and George have entered into a verbal agreement for 2018.

Fines ranging from $3 million to $6 million, loss of first-round pick(s), suspension of team personnel, or any current or future transactions voided are the most severe of the penalties.

The commissioner could also fine a team up to $250,000 if it violated the tampering rules to a lesser extent.
George, a superstar small forward, was ultimately traded to the Oklahoma City Thunder for Victor Oladipo and Domantas Sabonis, but there was plenty of buzz at the time that suggested George was willing to play out his contract in Indiana and then sign with the Lakers.
For their part, the Pacers are concerned the Lakers may have tampered in this affair by having contact with a player under contract, and that's led to Magic Johnson's squad being under investigation by the league.
Whether or not the Lakers tried to court George while he was under contract in Indiana is up in the air. The same can be said for the potential ramifications of the tampering,
It looks like the Lakers (if found guilty) will probably be facing a fine, which is basically a slap on the wrist for an organization with millions of dollars at its disposal. The worst-case scenario would be the loss of a first-round draft pick, which a building organization like the Lakers would desperately miss, and of course, it would really be a blow to have a big-time transaction voided if the league does find that Los Angeles was messing in the Pacers' business.
Currently, that last point may not seem like a big deal, but imagine if George doesn't end up re-upping with Oklahoma City (which is certainly possible) and he instead signs with the Lakers after this upcoming season. If the Lakers are found to be guilty and the NBA wanted to take a strong stance the league could very well block that move.
The ESPN report did state that the NBA takes these matters very seriously, so it will be interesting to see how this all plays out.