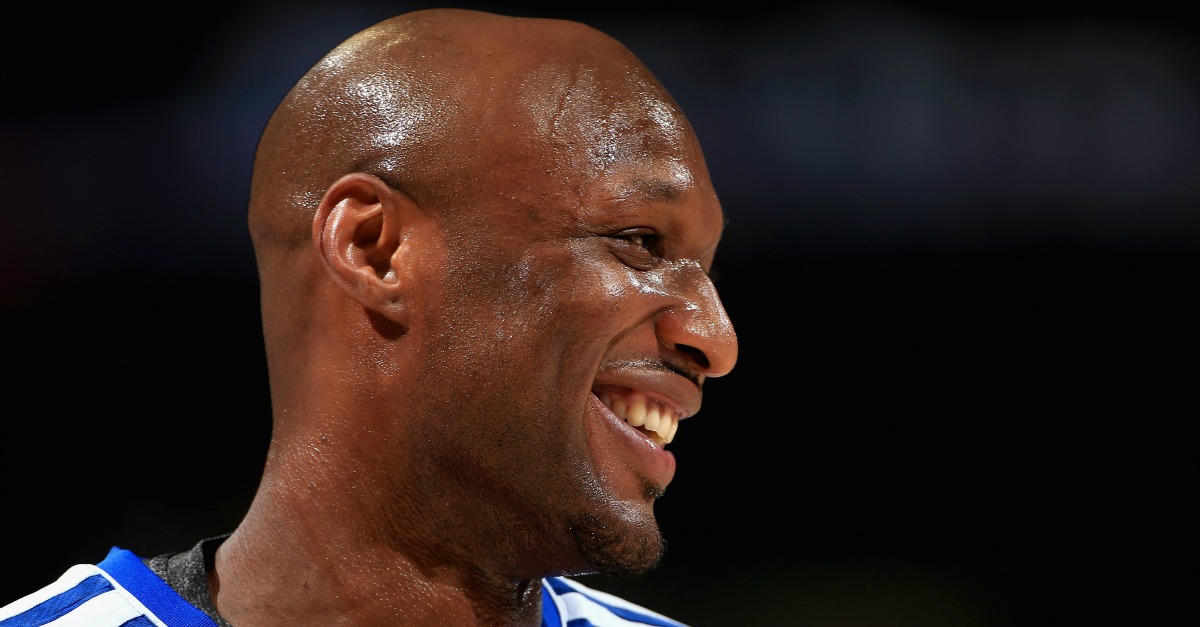 at the Pepsi Center on March 7, 2013 in Denver, Colorado. The Nuggets defeated the Clippers 107-92. NOTE TO USER: User expressly acknowledges and agrees that, by downloading and or using this photograph, User is consenting to the terms and conditions of the Getty Images License Agreement.
Lamar Odom was kicked off a Delta flight on Monday after he reportedly drank too much in the lounge and vomited on the airplane.
TMZ reports that the former basketball player and ex-husband of reality star Khloé Kardashian was spotted in the Delta lounge at LAX drinking beers and whiskey before boarding a red-eye to New York City. When he arrived at the gate, eyewitnesses claim that he already visibly intoxicated.
The Los Angeles based tabloid reports that Odom boarded the plane and sat down in seat 4B, but as soon as the plane pulled away from the gate, he jumped up and ran to the front, vomiting in the galley and again once he reached the bathroom.
RELATED: Khloé Kardashian files for divorce yet again, but this time she?s got a helluva good reason
When he came out of the bathroom, people reported seeing vomit on his clothes.
Odom was escorted off of the plane and a clean-up crew came in to take care of the mess. His belongings were also bagged up and removed from the plane.
A short time later, Odom returned to his seat on the plane and again got up to use this bathroom. This time, he used other passengers' heads to steady himself as he made his way down the aisle.
RELATED: The owner of the Nevada brothel where Lamar Odom was found unconscious wants him to visit again soon
One passenger reportedly approached a flight attendant, saying, "Don't you know his history? I don't want a dead body at 30,000 feet."
Odom was removed from the flight again and the plane took off, arriving to New York 40 minutes behind schedule.
This news comes just one day after reports came out that Odom had been booted from the home his ex-wife was paying for. Kardashian reportedly had enough of Odom when family members claimed that there was a crack pipe at the home.
Last year, Odom was hospitalized after he overdosed at a Nevada brothel.
It has been a long road to recovery for him.
(H/T Rare)