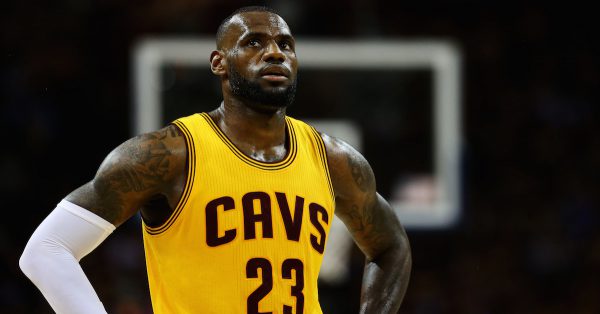 Ronald Martinez/Getty Images
CLEVELAND, OH - JUNE 11: LeBron James #23 of the Cleveland Cavaliers reacts in the second quarter against the Golden State Warriors during Game Four of the 2015 NBA Finals at Quicken Loans Arena on June 11, 2015 in Cleveland, Ohio. NOTE TO USER: User expressly acknowledges and agrees that, by downloading and or using this photograph, user is consenting to the terms and conditions of Getty Images License Agreement. (Photo by Ronald Martinez/Getty Images)
LeBron James has made it known that he would like some more help. In short order, the Cleveland Cavaliers have obliged the best player in the world.
First, the Cavaliers added former No. 2 overall pick Derrick Williams to the fold. That move did not make considerable waves, largely because Williams has enjoyed an underwhelming NBA career to this point, but he has performed well and has already flashed some of the upside that made him attractive to James and Cleveland.
Then, following the trade deadline, the Cavaliers went hard after former All-Star point guard Deron Williams, who would provide the team with a quality backup "playmaker" that James seeks. From there, Cleveland has now reportedly lured former Golden State Warriors and Dallas Mavericks center Andrew Bogut to join the fold.
In short, the best team in the Eastern Conference just reloaded without a great deal of effort.
While it would be disingenuous to suggest that the trio will have the impact of "top-three" picks in the NBA Draft at this point, the Cavaliers are certainly better. Deron Williams is a sharp upgrade over Kay Felder and others in the backcourt. Andrew Bogut provides another rim-protecting option behind Tristan Thompson and Channing Frye. Finally, Williams can bring an athletic force on the wing that could take some pressure off Cleveland's stars and provide insurance until Kevin Love and J.R. Smith return from injury.
Are the Cleveland Cavaliers better than the Golden State Warriors? Maybe not, but they are better than they were a few weeks ago.