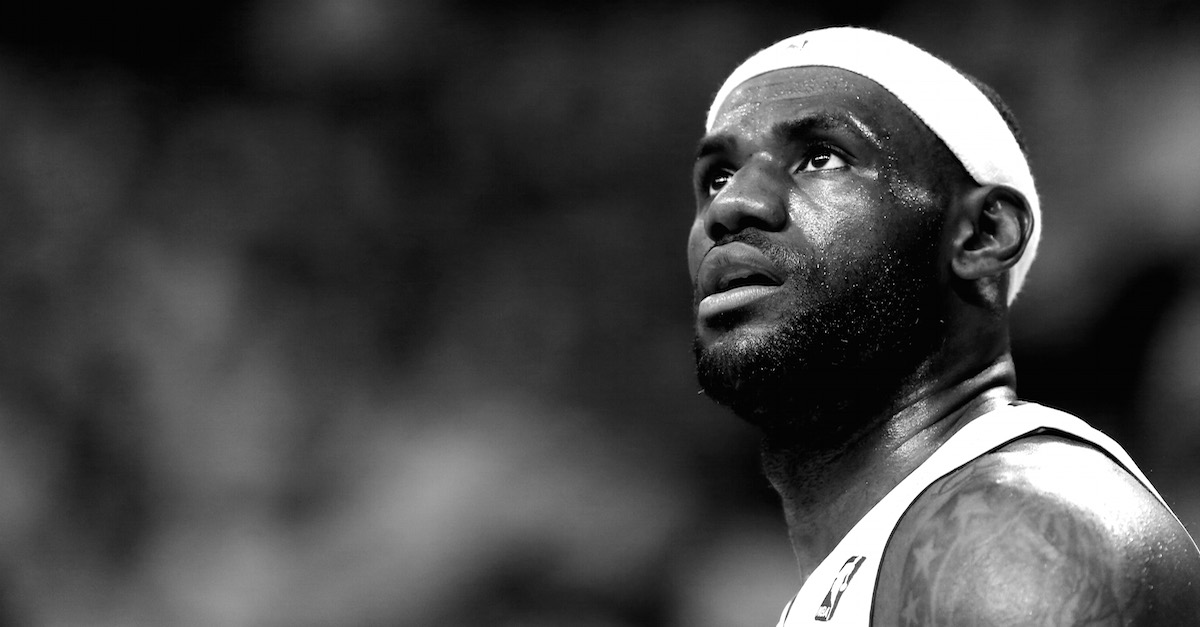 Mike Ehrmann/Getty Images
MIAMI, FL - MAY 30: LeBron James #6 of the Miami Heat looks on against the Indiana Pacers during Game Six of the Eastern Conference Finals of the 2014 NBA Playoffs at American Airlines Arena on May 30, 2014 in Miami, Florida. NOTE TO USER: User expressly acknowledges and agrees that, by downloading and or using this photograph, User is consenting to the terms and conditions of the Getty Images License Agreement. (Photo by Mike Ehrmann/Getty Images)
LeBron James is doing just fine right now with the 19-8 Cleveland Cavaliers, but looming rather large in the back of every Cleveland fans mind has to be the fact that "The King" could realistically leave the Cavs as a free agent this offseason.
It doesn't sound like he's going to make a spectacle of it right now, but Sam Amick of USA Today is reporting that there is one team, not named the Cavaliers, that could very well be the front-runner to land James this offseason.
That team is in the Western Conference, and believe it or not, it's not the Lakers.
Here's Amick:
While James has made it clear that he won't deliberate his uncertain future until the Cavs' season is complete, there is strong belief in Rockets circles that they'll have a legitimate shot at landing the four-time MVP this summer. Rival executives also believe the Rockets will have a real chance. And once you really look at it, when you get past all the noise about the Lakers and even the compelling case for the up-and-coming Philadelphia 76ers, it makes all sorts of sense.
The Rockets would certainly give James the supporting cast to win a championship with. James Harden is one of the most explosive scorers in the game and Chris Paul, who can be explosive in his own right, is a tremendous offensive distributor.
As Amick points out, there are also personal reasons for James to join the Rockets.
All roads lead to Houston with that kind of logic, especially when you factor in the convenience that one of his closest friends on the planet (Paul) is dominating alongside the MVP frontrunner (Harden), who won a gold medal with James in the 2012 London Olympics. As the season's halfway point nears, no team looks more capable of challenging the defending champs than this revamped Rockets squad.
The one catch to this plan is that Harden and Paul will also be free agents at season's end, so the Rockets' front office would really have to do some wheeling and dealing to bring all three in and keep everybody happy with their paychecks.
But for the chance to win it all in the Western conference and perhaps take out the Golden State Warriors in the process, Houston certainly would seem to be a good fit for James, who's played his whole career in the East.