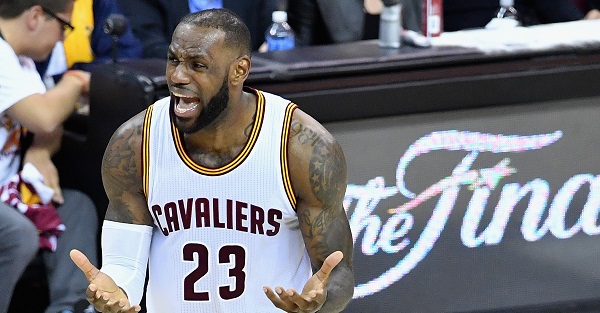 Jason Miller/Getty Images
CLEVELAND, OH - JUNE 07: LeBron James #23 of the Cleveland Cavaliers reacts in the second half against the Golden State Warriors in Game 3 of the 2017 NBA Finals at Quicken Loans Arena on June 7, 2017 in Cleveland, Ohio. NOTE TO USER: User expressly acknowledges and agrees that, by downloading and or using this photograph, User is consenting to the terms and conditions of the Getty Images License Agreement. (Photo by Jason Miller/Getty Images)
LeBron James has been phenomenal in the NBA Finals. The best player on the planet (yes, still) is averaging 32.0 points, 12.3 rebounds and 10.3 assists per game over the course of the three-game series to this point and, on top of that, James has converted 55.4 percent of his field goal attempts and 38.9 percent of his threes. In short, the now 32-year-old has operated at a level that should be above reproach, even for the most ardent critic.
Naturally, that has not been the case.
RELATED: Would LeBron James leave Cleveland?
Following a closely contested Game 3 loss to the Golden State Warriors in which the Cavaliers blew a late lead, James was skewered by normally rational actors. While Skip Bayless types (and, well, Skip Bayless) are expected to act in this manner, James' decision to pass to Kyle Korver for a (lightly contested) corner three in the late moments was a point of contention.
This prompted a widespread discussion about James' clutch behavior that hearkened back to a time before he claimed his first NBA title. This time, though, the complaints were wholly irrational. For one, Kyle Korver is one of the best shooters in the history of the NBA and, while he wasn't wide open, that is a shot that he is expected to make more than enough to justify taking such an attempt. Beyond that, the player that James is most often compared to, the great Michael Jordan, operated in such fashion on two very high-profile occasions, finding John Paxson for a clutch three during his first three-peat and, famously, finding Warriors head coach Steve Kerr for another during the twilight of his Bulls stay.
While this criticism of James was completely fruitless, the narrative exists and is very difficult to break across the board in a star-driven league. What isn't up for debate, though, is that the Cavaliers were absolutely tremendous with their best player on the floor and absolutely dreadful without him. James played 46 minutes in Game 3 and, during that time, the Cavs outscored the Warriors by seven points. Simple math then dictates that Cleveland, in the two (!) minutes that James sat on the bench, was bludgeoned to the tune of Golden State winning by a 12-point margin.
Single-game plus/minus is almost always overstated but, in this case, it is a perfect encapsulation of what transpired. When LeBron James played on Wednesday evening, the Cleveland Cavaliers operated at a level in which no team in the NBA outside of Oakland is capable of reaching. Without him, they were an unequivocal dumpster fire and, in short, that hiccup cost the team a favorable outcome in the game and, very likely, in the series.
That isn't to say that the Cavs would win the series had things gone differently in Cleveland in Game 3. The Warriors have the better roster and one that features four of the best 25 players in the world surrounded by competent supporting talent and a tremendous head coach. The Cavs, while extremely talented in their own right, simply can't match that and it is an everlasting tribute to James, Kyrie Irving and company that they could be so competitive against what might be the best NBA team to ever exist. With all of that said, however, criticizing LeBron James is usually a perilous choice and, this time around, it's just plain crazy within the confines of Game 3 of the 2017 NBA Finals.