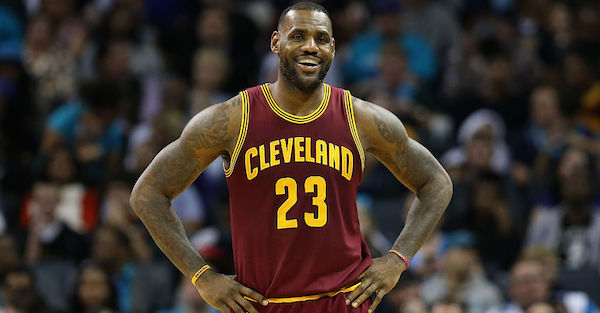 Streeter Lecka/Getty Images
CHARLOTTE, NC - NOVEMBER 27: LeBron James #23 of the Cleveland Cavaliers reacts during their game against the Charlotte Hornets at Time Warner Cable Arena on November 27, 2015 in Charlotte, North Carolina. NBA - NOTE TO USER: User expressly acknowledges and agrees that, by downloading and or using this photograph, User is consenting to the terms and conditions of the Getty Images License Agreement. (Photo by Streeter Lecka/Getty Images)
Dwyane Wade is expected to be bought out of the final year of his $23 million deal with the Chicago Bulls, and Joe Vardon of Cleveland.com is reporting people close to LeBron James are "fairly confident" he will join the Cleveland Cavaliers.
Wade opted into the final year of his two-year contract with the Chicago Bulls earlier this offseason, a $23 million one-year deal. But he apparently won't finish the year with the Bulls according to ESPN's Nick Friedell:
"Dwyane Wade isn't long for the organization's future and is expected to reach a buyout agreement at some point in the next few months."
The move comes after the Bulls traded Jimmy Butler to the Minnesota Timberwolves, fully committing to a rebuild.
Wade teaming up with James makes a ton of sense on the surface, but not so much from a front office perspective. Expiring contracts are typically gold in the NBA, and Pro Basketball Talk points out, his contract could be useful in a trade.
Wade is a 12-time All-Star, 2005-06 Finals MVP, eight-time All-NBA player and former three-time All-Defensive player.