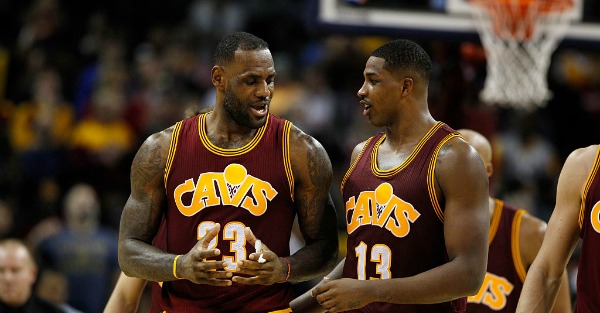 David Maxwell/Getty Images
CLEVELAND, OH - DECEMBER 17: LeBron James #23 of the Cleveland Cavaliers talks with teammate Tristan Thompson #13 during the second half against the Oklahoma City Thunder on December 17, 2015 at Quicken Loans Arena in Cleveland, Ohio. The Cavaliers defeated the Thunder 104-100. NOTE TO USER: User expressly acknowledges and agrees that, by downloading and or using this photograph, User is consenting to the terms and conditions of the Getty Images License Agreement. (Photo by David Maxwell/Getty Images) *** Local Caption *** LeBron James; Tristan Thompson
If there was ever any question as to what extent LeBron James rules the roost in Cleveland, this could some shed light.
It's a bit gossipy, but hollywoodlife.com is reporting that James isn't a happy camper when it comes to teammate Tristan Thompson and his romance with reality TV queen Khloe Kardashian. The two reportedly had a locker room spat before the team's season opening win over the New York Knicks Tuesday night.
Quoting an unnamed source, the gossip website said when LeBron told Thompson not to bring Kardashian around the team, he snapped back.
"Tristan isn't taking any crap from his teammates anymore. As far as he's concerned, Khloe's coming to every damn game she chooses," the insider reveals. "Tristan told LeBron straight up before last night's game that Khloe was coming and that was that."
RELATED: The Cavs are still trolling the Warriors on opening night
Thompson also reportedly told King James that "Khloe is his good luck charm, and that if they lost last night, then he'd consider asking her not to come in the future."
Juicy stuff. A little buyer beware for Thompson, though: those Kardashians seem to go through athletes like they do designer shoes, so proceed with caution.