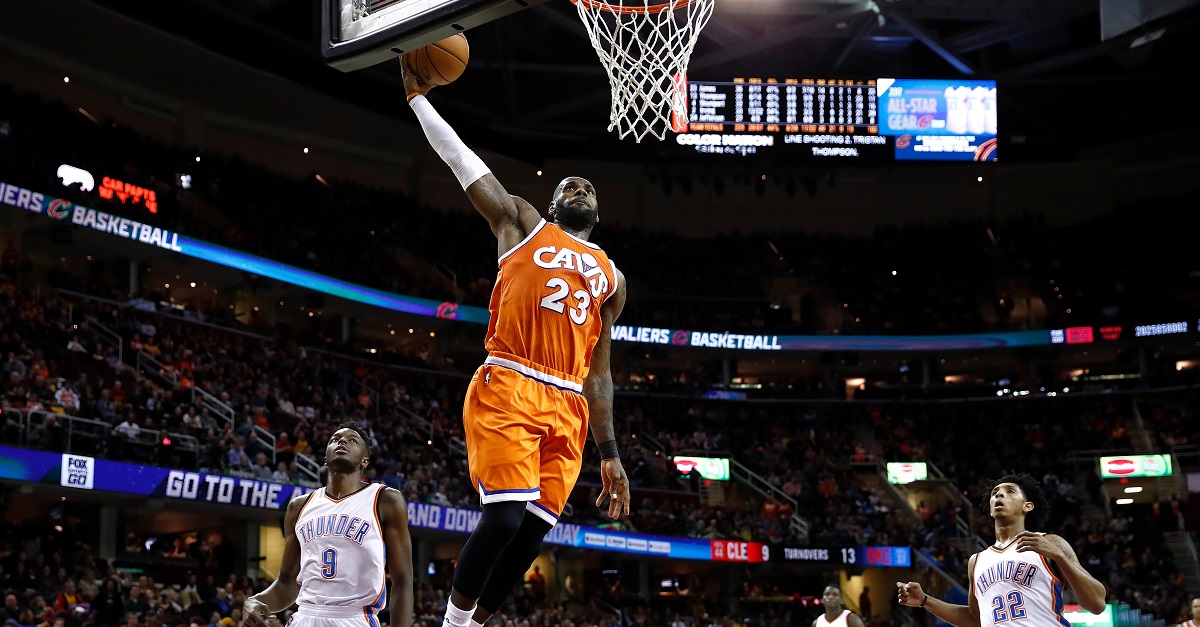 Gregory Shamus/Getty Images
CLEVELAND, OH - JANUARY 29: LeBron James #23 of the Cleveland Cavaliers gets to the basket for a second half dunk in front of Jerami Grant #9 of the Oklahoma City Thunder at Quicken Loans Arena on January 29, 2017 in Cleveland, Ohio. Cleveland won the game 107-91. NOTE TO USER: User expressly acknowledges and agrees that, by downloading and or using this photograph, User is consenting to the terms and conditions of the Getty Images License Agreement. (Photo by Gregory Shamus/Getty Images)
It's long been thought that LeBron James is the real brains behind the Cleveland Cavaliers operation. He forced the team to sign Tristan Thompson over the summer by threatening not to sign with the team again and that's put them over the luxury tax for the third year in a row. So you can't say the team hasn't been willing to spend money on players.
RELATED: Furious LeBron James calls out roster, management after latest loss
James has expressed his displeasure with the roster as it stands and has said he wants another play maker. Carmelo Anthony of the New York Knicks could be that play maker, but that would likely mean moving Kevin Love, which is something Phil Jackson would like as president of the Knicks. Frank Isola of the New York Daily News is reporting that Jackson has been trying to move Anthony before the Feb. 23 trade deadline and would enjoy prying away Love from the Cavs.
While this trade would require Anthony to waive his no-trade clause, most people believe he would to be able to play with LeBron James. Whether LeBron has enough influence over the Cavs front office and owner Dan Gilbert to force a trade is unclear, but it certainly seems like a strong possibility with the way this team has come together and the way he's spoken to the media about a trade recently.
[h/t NY Daily News]