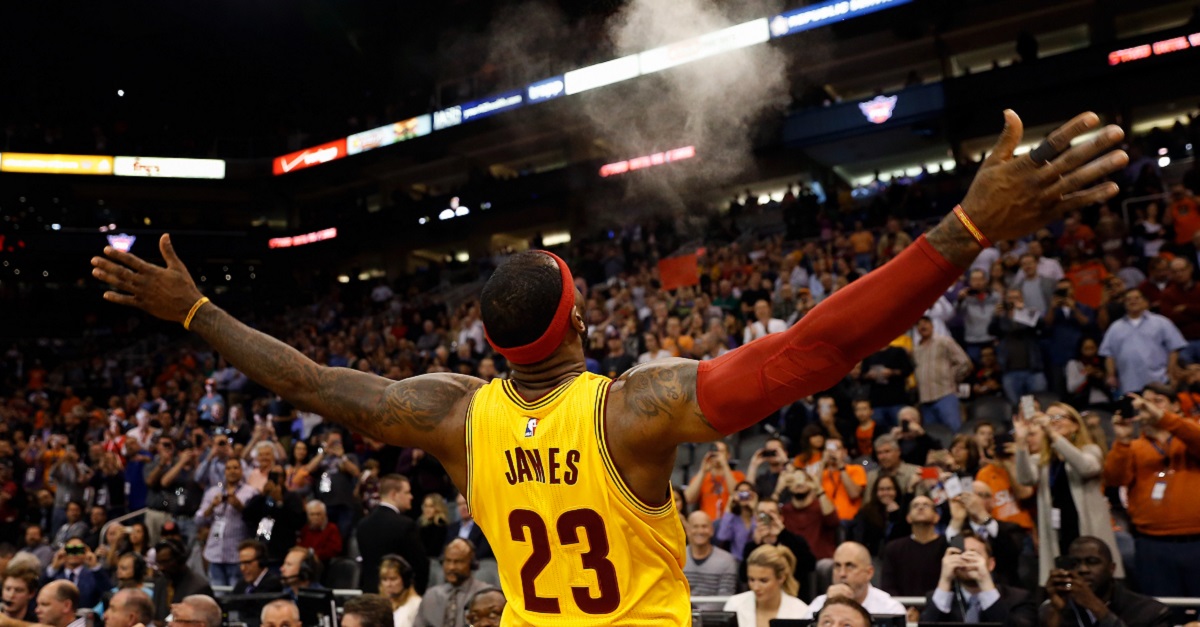 Christian Petersen/Getty Images
PHOENIX, AZ - JANUARY 13: LeBron James #23 of the Cleveland Cavaliers throws powder into the air before the start of the NBA game against the Phoenix Suns at US Airways Center on January 13, 2015 in Phoenix, Arizona. NOTE TO USER: User expressly acknowledges and agrees that, by downloading and or using this photograph, User is consenting to the terms and conditions of the Getty Images License Agreement. (Photo by Christian Petersen/Getty Images)
A bit of a tiff seems to have developed between LeBron James and Phil Jackson.
The New York Knicks president recently opined about some of the "special treatment" James is said to have requested while he was with the Miami Heat, and how it may have have sparked some tension between the two.
"It had to hurt when they lost LeBron. That was definitely a slap in the face," Jackson told ESPN. "But there were a lot of little things that came out of that. When LeBron was playing with the Heat, they went to Cleveland and he wanted to spend the night. They don't do overnights. Teams just don't. So now (coach Erik) Spoelstra has to text Riley and say, 'What do I do in this situation?' And Pat, who has iron-fist rules, answers, 'You are on the plane, you are with this team.' You can't hold up the whole team because you and your mom and your posse want to spend an extra night in Cleveland."
RELATED: Former pro wrestler CM Punk trashes LeBron James for being a bandwagon Indians fan
Apparently incensed by Jackson's comments, in particular his use of the word "posse," James let loose with a few choice words for the the Hall of Fame coach, suggesting that his remarks were laced with racially-charged language.
"We see the success that we have, but then there is always someone that lets you know how far we still have to go as African-Americans," James told reporters in Cleveland Tuesday. "I don't believe that Phil Jackson would have used that term if he was doing business with someone else and working with another team or if he was working with anybody in sports that was owning a team that wasn't African-American and had a group of guys around them that didn't agree with what they did. I don't think he would have called them a posse. But it just shows how far we have to go. But it won't stop us from doing what we need to do as a group."
Jackson has not responded to James' comments, and reportedly dodged the media after practice Tuesday, leaving Knicks superstar Carmelo Anthony to try and explain the quarrel.
"Do I think he meant it any kind of way?" Anthony said. "I really don't know. I don't think he did. I would hope that he didn't. Sometimes Phil just says things and he says the first thing that comes to mind and then probably is in his office right now regretting it. I don't know. When it comes to Phil, you just never know what's going to be said, what's coming out. It depends on who's listening. People take it the right way or people take it the wrong way. You just never know when it comes to Phil."