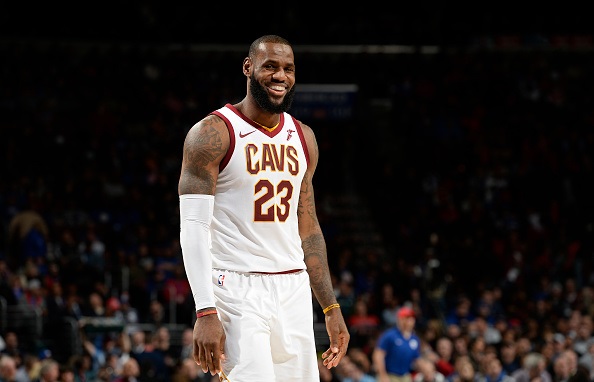 David Dow-NBAE/Getty Images
PHILADELPHIA,PA - NOVEMBER 27: A close up shot of LeBron James #23 of the Cleveland Cavaliers smiling during the game against the Philadelphia 76ers on November 27, 2017 in Philadelphia, Pennsylvania. NOTE TO USER: User expressly acknowledges and agrees that, by downloading and/or using this Photograph, user is consenting to the terms and conditions of the Getty Images License Agreement. Mandatory Copyright Notice: Copyright 2017 NBAE (Photo by David Dow/NBAE via Getty Images)
Cleveland Cavaliers forward LeBron James has put together quite a resume after 15 seasons in the NBA. He has won championships, Most Valuable Player awards, he has been named to 13 All-Star teams with another on the way this season and has solidified himself as one of the best players to ever step on the court.
But even above all of that, he says one of the best accomplishments that he has ever done has come away from the basketball court.
James, through his LeBron James Family Foundation, is opening an "I Promise School" for 3rd and 4th graders in Akron next year for those that are falling behind in class. The school, which has been approved by the Akron school board, is designed to help make a difference in the lives of kids in his hometown and to help raise reading scores and graduation rates.
He believes opening this school is among the best things that he's ever accomplished.
"It is," James told reporters on Thursday. "Besides having three kids and marrying my wife, putting my mom in a position where she never has to worry about anything ever again for the rest of her life, this is right up there. Championships, MVPs, I mean, points, rebounds, and assists, that stuff is whatever."
James' latest step to open up a school for students falling behind is just another example of his efforts to give back to his hometown. His foundation has helped mentor children in the inner city for several years now and those children will eventually receive a free scholarship to the University of Akron for graduation from this program.
His impact on the game and outside of the game cannot be denied.