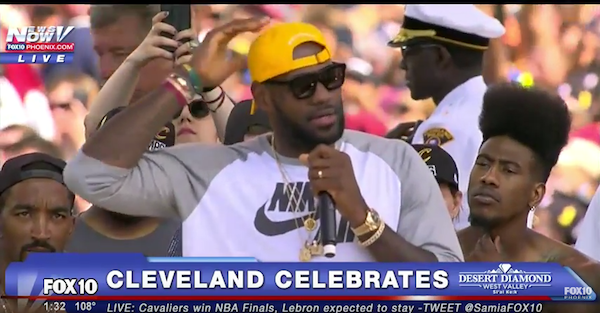 The Cleveland Cavaliers are NBA champions and so they had their parade on Wednesday after winning Game 7 on Sunday. He had a triple-double and was named the unanimous MVP of the series.
RELATED: Cleveland makes history in Game 7 win
It was only right he got the most mic time on the parade float and boy did he take advantage of it. He talked for 16 minutes off the cuff, with no notes or anything and got a jab in on just about everyone he could.
Here's a quick recap of LeBron's speech:
LeBron takes a few not-so-subtle jabs at the Knicks when discussing former New York players J.R. Smith, Iman Shumpert, and Timofey Mozgov.
Some pretty open discussion of Kevin Love?s struggles, and a relationship between the two stars that has been contentious at times. He also goes into great detail about Love?s impressive late stop of Steph Curry, which helped seal the game seven win. In praising Love?s defense, he also takes a swipe at Curry?s status as two-time MVP.
The revelation that Iman Shumpert played through last year?s finals with a partially torn groin and shoulder.
The fact that DeAndre Jordan resigning with the Clippers allowed the Cavaliers to pick up Richard Jefferson
LeBron would take Matthew Dellavedova over a bear in a fight
He made sure all of his teammates got the praise too and for those keeping up with the J.R. Smith updates, he was still not wearing a shirt for this one. James Jones also got a nice shout out for riding LeBron's coattails and Dahntay Jones even got a shout out for getting picked up just weeks before the playoffs started. Just some stunning stuff.
[h/t CollegeSpun]