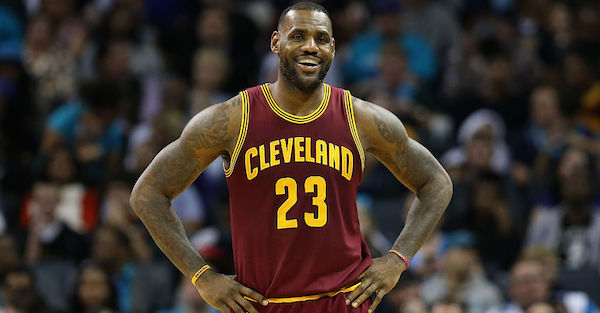 Streeter Lecka/Getty Images
CHARLOTTE, NC - NOVEMBER 27: LeBron James #23 of the Cleveland Cavaliers reacts during their game against the Charlotte Hornets at Time Warner Cable Arena on November 27, 2015 in Charlotte, North Carolina. NBA - NOTE TO USER: User expressly acknowledges and agrees that, by downloading and or using this photograph, User is consenting to the terms and conditions of the Getty Images License Agreement. (Photo by Streeter Lecka/Getty Images)
Matt Moore of CBS joined the Relatively Speaking podcast on FanRag sports to discuss the drama surrounding LeBron James and the Cleveland Cavaliers when he discussed the possibility that the two sides could separate as soon as during the 2017-18 regular season.
After being big movers over the last few years in surrounding James with talent in hopes of contending for a title, Cleveland has been stuck in mud this summer while other teams add significant pieces. That led to a conversation where Moore discusses that if things go sideways in Cleveland this year, it may not be out of the question for Cleveland to trade James:
"It takes one little slip and they're going to be in trouble. The Cavs look to be imploding. Dan Gilbert's response to LeBron being concerned over whether or not ownership was going to spend again was to shop Iman Shumpert, re-sign Kyle Korver and show up with a political person who LeBron is clearly not a fan of that he wasn't even invited to. That is not exactly how you woo things and keep a guy in place. If LeBron decides he's done with this entire process, the idea that of him being traded this season is not entirely out of the question. There were questions in Cleveland during the Finals, there were questions already bubbling around the town around 2018 and what LeBron might choose to do. This is on the team, they might lose him."
James and the Cavs sleepwalked through the regular season, giving up the No. 1 seed to the Boston Celtics. The Cavs turned it on late and waxed every Eastern Conference team in a dominant showing before the Golden State Warriors embarrassed James and Co. through the Finals.
While plenty of speculation has linked James to the Lakers, Moore speculates and cautions not to rule out the Clippers.
"I don't know that it's done. I think he's going to weigh his options. The Lakers are his easy option. I don't think LeBron wants to piggyback off someone else's legacy. He's always going to be playing for Kobe's team, for Magic's team. This is speculative, the LeBron going to L.A. is different than LeBron going to the Lakers. The Lakers are a lot further away from competing for a championship than the Clippers are."
If James is traded, it would be arguably the biggest deal in NBA history and one that changes the tide in the NBA title race. Who knows what it would take, but you could imagine it happening if the Cavaliers are under the impression there's no way James returns next summer.