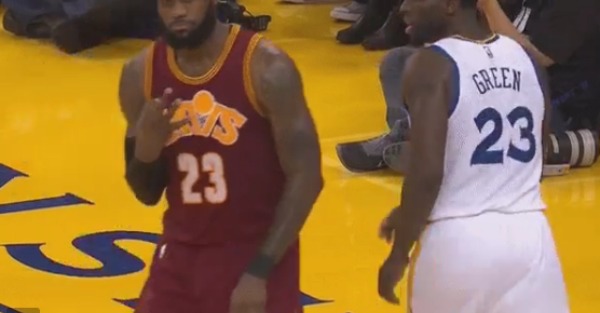 @JoirdanHeckFF/Twitter
LeBron James may have been the butt of the joke for hecklers in Golden State's 126-91 dismantling of the Cleveland Cavaliers Monday night at Oracle Arena, but ultimately the "King" got the last laugh.
James was stymied by a pesky Warriors defense to the tune of shooting just 6-of-18 for 20 points. And Golden State fans were more than happy to rub it in his face.
RELATED: Draymond Green mercilessly mocked LeBron James after his epic flop
But James, never one to back down from some good old-fashioned jeering, reminded everyone that he's still the man with the ultimate retort—a three-fingered reminder to the rowdy crowd that he still holds three NBA titles.
Makes you want to hit fast forward on the season and skip right to another finals matchup between these two.