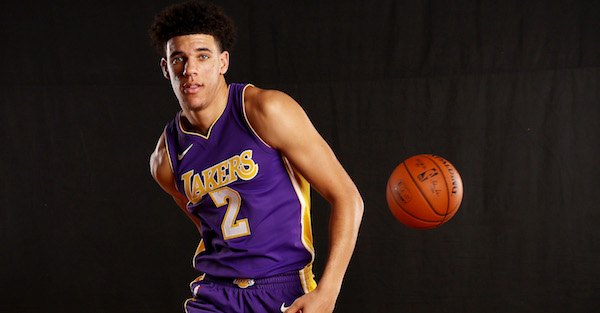 Elsa/Getty Images
GREENBURGH, NY - AUGUST 11: Lonzo Ball of the Los Angeles Lakers poses for a portrati during the 2017 NBA Rookie Photo Shoot at MSG Training Center on August 11, 2017 in Greenburgh, New York. NOTE TO USER: User expressly acknowledges and agrees that, by downloading and or using this photograph, User is consenting to the terms and conditions of the Getty Images License Agreement. (Photo by Elsa/Getty Images)
Milwaukee Bucks head coach Jason Kidd said on Thursday that he doesn't agree with the comparisons to Los Angeles Lakers rookie Lonzo Ball. Kidd agreed with "First Take" host Molly Qerim that it's a stretch to compare the two.
Since Ball entered the NBA this season, many believe he plays a similar style of basketball to Kidd. The two point guards have an ability to pile up assists and rebounds, while also score as well. Of course, it's entirely too early to compare the two as Ball is just 11 games into his career and has a long way to go before reaching the status that Kidd achieved.
Many have started to question Ball and his ability to be more aggressive during games as he often looks to pass first instead of taking over games. Kidd believes Ball will be fine and that his development is going to take some time due to the expectations that have been placed on him being the second pick in the draft.
Kidd was asked by Stephen A. Smith what he would look for in a player to be compared to how he played and what he thinks of the comparisons to Ball.
"Does someone play hard for 48 minutes and are you willing to do anything to win?" Kidd responded. "It?s still early in his career and as someone said earlier, it?s a stretch. He has to understand what it means to play hard and what it means to win and how to win at the highest level. It takes time and hopefully in three years maybe there is a better comparison, but right now it is a stretch and he has a ways to go."
Of course, Kidd solidified himself as one of the best point guards of all time after finishing second all-time in assists, second in steals, eighth in three-pointers and third in triple-doubles. Although Kidd finished eighth in three-point shooting, he wasn't a great shooter during his first few years in the league and was forced to work on his shot more and some believe Ball will have to do the same as well.
Ball will have a lot of work to do before becoming an all-time great like Kidd, but he has shown flashes that he can be fun to watch and be a leader for his team.