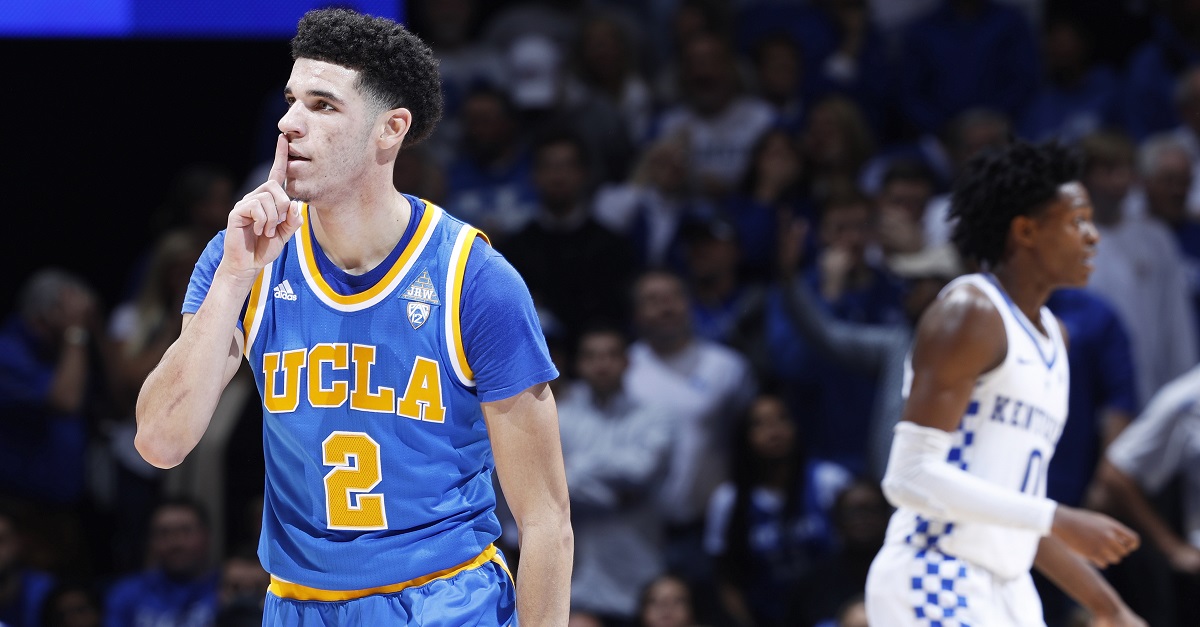 Joe Robbins/Getty Images
LEXINGTON, KY - DECEMBER 03: Lonzo Ball #2 of the UCLA Bruins reacts after making a three-point basket against the Kentucky Wildcats in the second half of the game at Rupp Arena on December 3, 2016 in Lexington, Kentucky. UCLA defeated Kentucky 97-92. (Photo by Joe Robbins/Getty Images)
It's not only on the court, where LaVar Ball has insisted his son, Lonzo, land with the Los Angeles Lakers that the father is affecting his son's life.
A consensus top-three pick, Lonzo Ball will also not have a shoe deal with Nike, Adidas or Under Armour, and that's apparently because of the way his father is pitching a potential partnership, per ESPN.
According to the report, LaVar has insisted that whichever company signs his son, also license Big Baller Brand from him.
"We've said from the beginning, we aren't looking for an endorsement deal," LaVar told ESPN. "We're looking for co-branding, a true partner. But they're not ready for that because they're not used to that model. But hey, the taxi industry wasn't ready for Uber, either."
It's an unprecedented move for all three brands to move on from the potential top pick, but not entirely surprising considering the trend that has been set by Lonzo's father.
This is just the latest in a long list of ludicrous stunts from LaVar Ball in recent weeks.
From saying Lonzo, his oldest son and current UCLA star, is better than Stephen Curry and LeBron James, to noting he himself could beat Michael Jordan one-on-one, the Big Baller Brand owner has said some wild things.
After calling out LeBron James' kids, ESPN's Scott Van Pelt had enough and called out the oldest Ball on SportsCenter, "It's not about loving his sons, it's about loving the spotlight that he never had."
SVP also maintained that at least he will from here on only focus on what his kids do than what their father says.
Whether what he says, including demanding a $1 billion shoe deal and saying his son will only play for the Los Angeles Lakers, scares teams off come June remains to be seen. It's quite evident the media has had enough of him at this point.