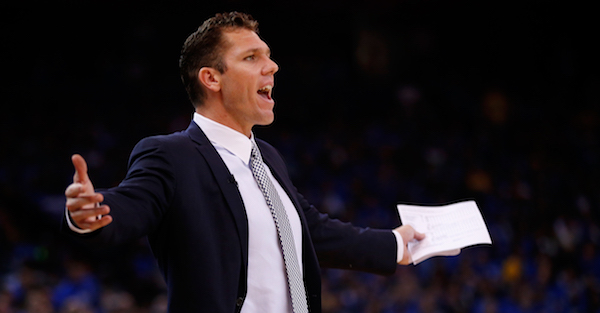 OAKLAND, CA - OCTOBER 27: Interim head coach Luke Walton of the Golden State Warriors reacts to a play during the NBA season opener against the New Orleans Pelicans at ORACLE Arena on October 27, 2015 in Oakland, California. NOTE TO USER: User expressly acknowledges and agrees that, by downloading and or using this photograph, User is consenting to the terms and conditions of the Getty Images License Agreement. (Photo by Ezra Shaw/Getty Images)
NBA free agency opened Friday morning at midnight with Los Angeles Lakers fans having high hope as their team paired plenty of salary space with young talent.
With plenty of big names still on the open market, the Lakers' key move at midnight was inking NBA veteran Timofey Mozgov to a whopping four-year deal worth $64 million, per ESPN.
It's a demoralizing deal for Lakers fans who had hopes of landing the likes of DeMar Derozan (re-signed with Raptors), Nic Batum (re-signed with Hornets) or Kevin Durant (not meeting with Lakers).
Mozgov, who will be 30 on July 16, is a 7'1″ center who saw his role diminished in Cleveland last year during the Cavaliers title run. The NBA veteran has only averaged 10 points or more in one season over his six-year career. He's averaged six or more rebounds in three separate seasons.
Mozgov notched six points and four rebounds over 17 minutes per game last season.
There's always next year, right Lakers fans?