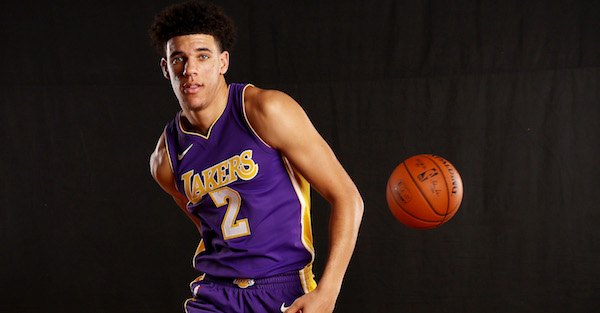 Elsa/Getty Image
GREENBURGH, NY - AUGUST 11: Lonzo Ball of the Los Angeles Lakers poses for a portrati during the 2017 NBA Rookie Photo Shoot at MSG Training Center on August 11, 2017 in Greenburgh, New York. NOTE TO USER: User expressly acknowledges and agrees that, by downloading and or using this photograph, User is consenting to the terms and conditions of the Getty Images License Agreement. (Photo by Elsa/Getty Images)
When the Los Angeles Lakers made the move to draft Lonzo Ball with the No. 2 overall pick in the 2017 NBA Draft, there were exciting visions of what the future of the franchise would look like. Fans reminisced about Magic Johnson and how he led the Showtime Lakers in the golden age of the NBA.
Johnson, who is now serving as Los Angeles' president of basketball operations, has spoken highly of Ball and how he can lead the franchise back to greatness.
Now, one of Johnson's former teammates, James Worthy, has some high praise for the Lakers rookie. And he's going as far as to compare Ball to Johnson, himself.
?He enhances everybody on the court,? Worthy told TMZ Sports. ?We haven?t had someone with that type of talent really since Magic.?
Ball helped lead the Lakers to a title in the 2017 NBA Summer League in Las Vegas this summer. The rookie averaged 16.3 points, 9.3 assists and 7.7 rebounds per game.
Johnson had Worthy running alongside him and had Kareem Abdul-Jabbar posted down low when Showtime was in Los Angeles.
Maybe Ball will look to re-create that magic with second-year small forward Brandon Ingram and power forward Julius Randle helping fuel the resurgence.
(h/t UPROXX)