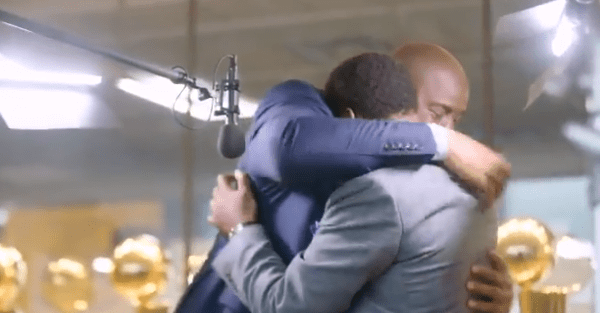 Twitter/@NBATV
While former Los Angeles Lakers great Kobe Bryant stole headlines this week as the team retired his two jersey numbers, another former Lakers great also made news as well with the help of an old opponent.
In a conversation that aired on NBA TV Tuesday night, Magic Johnson and former Detroit Pistons point guard Isiah Thomas ended their decades-long feud in a highly emotional reunion.
"This has been a tremendous day," Johnson said. "My wife, my mother, my father have been saying y'all need to get back together. So when everybody called, I said no question we're going to do this. And just to sit across from you and relive those moments of fun, excellence, working hard, dreaming big. Who sits up at 19 or 21 dreaming of stuff we wanted to do and now we are here doing it.

"You are my brother. Let me apologize if I hurt you, that we haven't been together and God is good to bring us back together."
The feud between the two Hall of Fame players has carried on for nearly 30 years since the two teams met during the 1988 and 1989 NBA Finals. The relationship soured even more after Johnson admitted he lobbied against adding Thomas to the 1992 U.S. Olympic Dream Team roster because he believed Thomas spread rumors about his sexuality following the announcement that he had contracted the HIV virus.
The relationship between the two players had even reached a point in recent years that Johnson didn't seem too concerned if they would ever work things out and become friends again.
"If that day doesn't come, then it doesn't come," said Johnson, according to ESPN. "Right now, we've both got a lot to do."
But now after the reunion on NBA TV, many are happy to see two NBA legends reconcile their differences and become friends again.
Before the clip finished, they each had a good laugh about being upset they each lost one of the two Finals series.