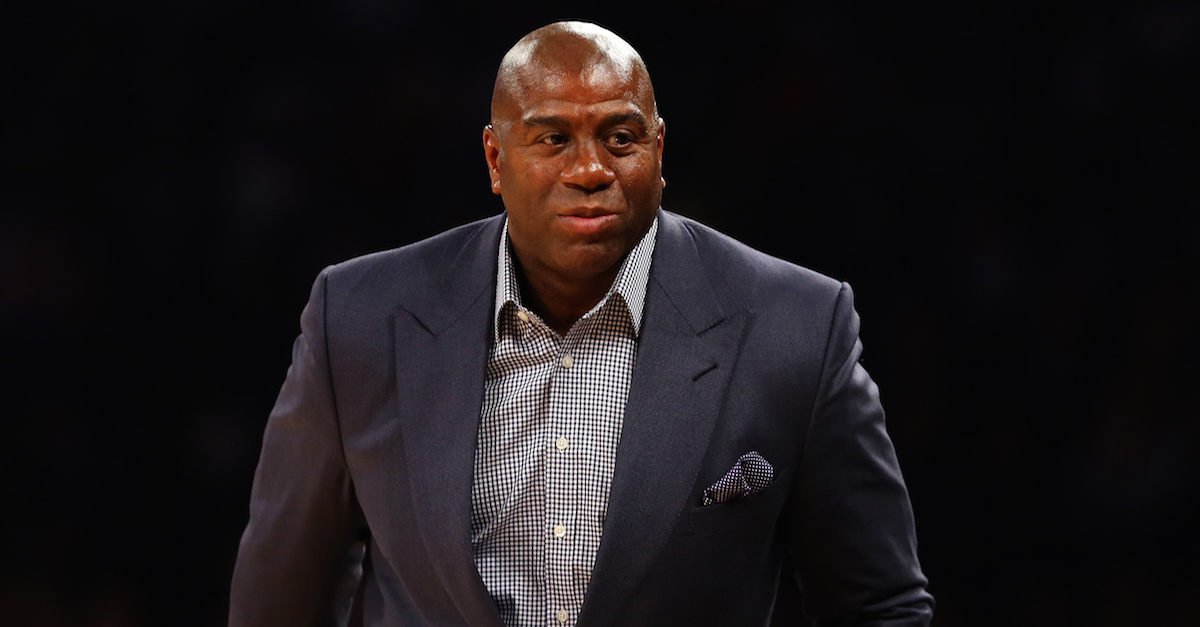 Elsa/Getty Images
NEW YORK, NY - FEBRUARY 15: NBA Legend Earvin "Magic" Johnson Jr. attends the 2015 NBA All-Star Game at Madison Square Garden on February 15, 2015 in New York City. NOTE TO USER: User expressly acknowledges and agrees that, by downloading and/or using this photograph, user is consenting to the terms and conditions of the Getty Images License Agreement. (Photo by Elsa/Getty Images)
Magic Johnson is entering his first offseason as the primary decision maker for the Los Angeles Lakers, and he already received great news when the Lakers earned the No. 2 pick in the NBA Draft.
During a radio appearance on ESPN Los Angeles, Johnson was asked about potential trades and which players on his team were untouchable. He said Brandon Ingram, who was the second pick of the draft last season, is the only player on the roster he won't think about trading.
Related: Magic Johnson wants to bring Kobe Bryant back to the Lakers, just not in a familiar position
Ingram averaged 9.4 points per game as a rookie in 2016, and he shot 44 percent from the field. Those aren't particularly impressive stats, but Magic evidently sees a lot of potential in the former Duke star.
What's more interesting about Magic's comments is that he didn't include D'Angelo Russell. Russell averaged just under 16 points and five assists per game in his second season with the Lakers, and he was the No. 2 pick the year before Ingram.
Russell primarily played point guard for the Lakers, though he can also play off the ball. The Lakers are expected to pick point guard Lonzo Ball with the No. 2 pick in the upcoming draft, so they might look to move Russell.
Magic did detail what his young players need to work on in the offseason, but it's clear he won't be afraid to trade anyone but Ingram.
The Lakers could be candidates to trade for Paul George, though they might just wait until the following year to try and sign him as a free agent. Either way, several young Lakers might be playing elsewhere next season if Magic can find the right deal.