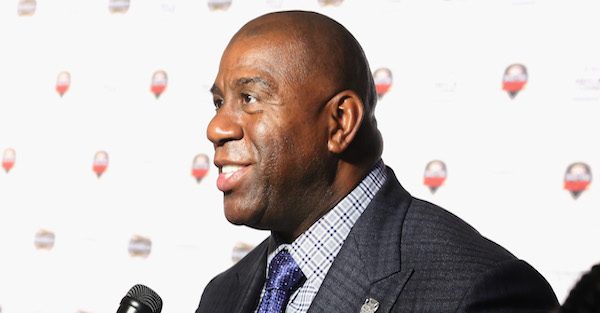 Rob Kim/Getty Images
NEW YORK, NY - DECEMBER 09: Magic Johnson attends the Sportsman Of The Year 2014 Ceremony on December 9, 2014 in New York City. (Photo by Rob Kim/Getty Images for Sports Illustrated)
Magic Johnson eventually wants to be the primary decision maker for the Los Angeles Lakers, and he wants another Laker legend to help him in the front office.
Related: Report: Lakers engaged in talks for a superstar in potential blockbuster trade 
During an appearance on First Take, Johnson said he'd like for Kobe Bryant to help him run the Lakers in any capacity he wanted.
"First call I make if I'm in charge? Kobe Bryant," Johnson said. "Because Kobe understands winning. He understands, also, these players. I would call: 'What role you want? … If you've got a day, just give me that day.'
"I'll take that. Whatever time he has, I want him to come and be a part of it."
The Buss family still has control of the Los Angeles Lakers, but if they relinquish their role in the future, it would be interesting to see how Magic and Bryant would run the franchise, if asked. They each won five NBA titles with the Lakers, but neither has any front office experience.
The Lakers are in a rebuilding phase now, but once their young roster gets more experience, they could be in position to attract a marquee free agent. Having two Laker legends in management positions could help them land premier stars.
(h/t Uproxx)