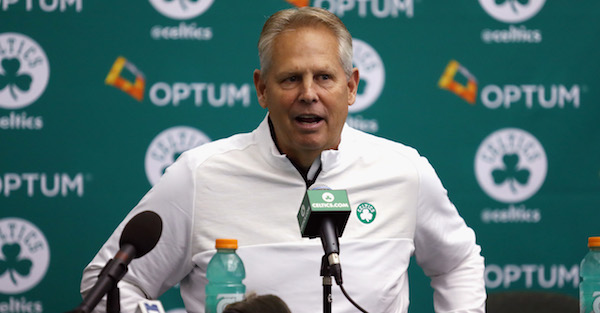 Tim Bradbury/Getty Images
WALTHAM, MA - SEPTEMBER 26: General manager Danny Ainge of the Boston Celtics speaks with the media during Boston Celtics Media Day on September 26, 2016 in Waltham, Massachusetts. (Photo by Tim Bradbury/Getty Images)
After signing Gordon Hayward in free agency, the Boston Celtics are inching closer to closing the gap between the East's No. 1 seed last year and the Cleveland Cavaliers.
With that move, Yahoo's Chris Mannix brings word that the Celtics may not be done dealing. They have to send out assets to make Gordon Hayward's contract fit, and apparently could be interested in trading for former Defensive Player of the year and three-time All-Star Marc Gasol, via Yahoo Sports:
"One player worth keeping an eye on, two league executives told The Vertical: Memphis' Marc Gasol. The Grizzlies lost Zach Randolph, Tony Allen could be next out the door, and if you were filling out your Western Conference playoff bracket today, Memphis probably wouldn't be in it. Would the Grizz move the 32-year-old Gasol for a ready-made rebuilding package of players and picks? Would Boston – which has to be wary of putting together a team that would beat Cleveland but still get pulverized by Golden State – be interested? Again, worth watching."
Gasol is a former second-round pick, but blossomed into an all-around star for the Grizzlies.
He's coming off a career-year where he averaged 19 points per game, six rebounds and nearly five assists.
With Amir Johnson gone in free agency, the Celtics have rookies Ante Zizic and a host of other salary filling big men to fill the roster.
Gasol has two years remaining on his contract, with the third as a player option.
Aside from Avery Bradley, Marcus Smart and Jae Crowder as the most likely fillers for any trade, the Celtics have a plethora of future draft picks, including: 2018 Brooklyn Nets pick, 2018 Los Angeles Lakers pick (must fall between 2-5 to convey), 2019 L.A. Clippers pick (lottery protected), 2019 Memphis Grizzlies pick (protected 1-8).
Boston is somehow in win-now mode, all while holding Jaylen Brown and Jayson Tatum, two top-three picks as building for the future assets.