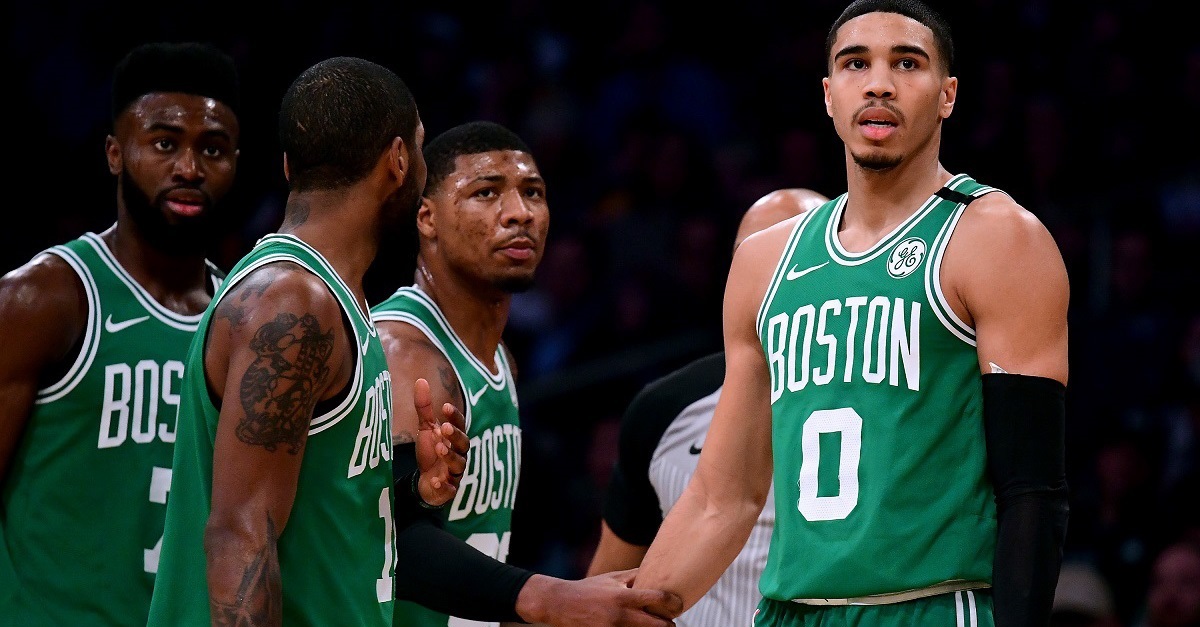 Harry How/Getty Images
LOS ANGELES, CA - JANUARY 23: Jayson Tatum #0 of the Boston Celtics reacts after his double foul as he is pulled back by Marcus Smart #36 during the first half against the Los Angeles Lakers at Staples Center on January 23, 2018 in Los Angeles, California. (Photo by Harry How/Getty Images)
The Boston Celtics are reportedly willing to trade guard Marcus Smart for a first-round draft pick, according to ESPN's Adrian Wojnarowski.
?You talk about Marcus Smart, he?s a player that?s available for a first round pick. If a team was willing to give Boston a first, Boston would look at,? Wojnarowski said on the latest edition of his podcast with Bobby Marks. ?If they didn?t have to take back a lot of money going out in the future. He?s restricted this summer, you don?t know what it will cost to keep him.

?He?s proven he can help you win a playoff game or two. He doesn?t shoot great from 3-point line, some of the things you want from a guard in this day and age. He defends, he?s super competitive. But they can?t pay everybody in Boston and they?re going to have to make decisions. But does a team want to give up a first for a player when they don?t know what it will cost to keep him. I?m not sure that will happen. But I think certainly if they were going to make a move with one of their core guys, there?s potential that it?s going to be Smart.?
Marks added that any team potentially interested in acquiring Smart "better be doing [its] homework on the market this summer," by comparing him to potential unrestricted free agents and understanding that, because he's restricted, the organization would have to exceed his current salary if a team makes a qualifying offer.
He also noted that Smart's value may have decreased by an estimated $5 million during the past two seasons.
?For a team that is interested in Marcus Smart you better be doing your homework on the market this summer, figure out what other guards are going to be out there and what would be a home for him. I have a hard time if it?s not Boston, where else is there a home. Two years ago he would be a player who would be getting $13-15 million, now you?re looking in that $8-10 range.?
Smart is averaging 10.1 points, 4.7 assists and 3.6 rebounds per game in 46 appearances as Boston's backup shooting guard this season. He has also made 10 starts in 2017-18.
The former No. 6 overall pick has two years remaining on his current deal which includes $10.3 million and $11 million annual respective salaries. That could force Boston's hand as it looks free some cap space in order to make more moves and solidify its place atop the Eastern Conference standings.
Boston recently signed center Greg Monroe to a one-year, $5 million contract and is rumored to be interested in acquiring Los Angeles Clippers guard Lou Williams or Memphis Grizzlies swingman Tyreke Evans before the Feb. 8 trade deadline.
Trading Smart could help the Celtics make either of those options more realistic by freeing up cap space.